Zomedica Nears Entry Into $19 Billion Vet-Care Market; TRUFORMA™ Leads The Way (NYSE American: ZOM) (TSX-V: ZOM)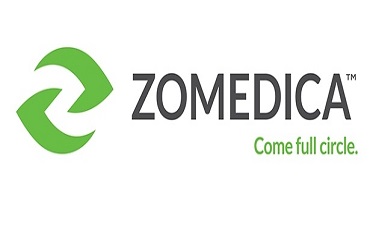 Shares of Zomedica rising as TRUFORMA launch grabs investor attention. The innovative point of care diagnostic device is targeting a $19 billion vet-care market.
The growing companion animal diagnostic and healthcare industry is a $19 billion market. While the opportunity is wide open, only a handful of companies are focused on bringing innovative animal healthcare products to market to help veterinarians and their teams to diagnose and treat companion animal disease; Zomedica is one of those animal health companies uniquely positioned to deliver innovation in veterinary diagnostics and pharmaceuticals.
Dually traded on the NYSE American and TSX-V markets under the symbol "ZOM", this Michigan-based company is positioning itself to reap tremendous potential rewards. Zomedica is currently developing its first innovative diagnostic device, TRUFORMA™. TRUFORMA™ is a point of care diagnostic platform with initial assays used to diagnose thyroid and adrenal disorders in dogs and cats. Late stage investigative studies suggest TRUFORMA™ could replace traditional methods for diagnosing thyroid and adrenal disease in dogs and cats. Current methods require shipment of patient samples to an outside lab for testing. Traditional diagnostic methods often result in a multi-day delay prolonging time to treatment. Beyond this ground-breaking platform, Zomedica's deep pipeline includes other innovative assets to support its growth objectives.
Zomedica's strategic pipeline, beginning with TRUFORMA™, positions the company as a highly valuable animal healthcare partner to the point of care veterinary service market. Zomedica plans validation studies in the back half of 2019. Zomedica has set a product development pace which will allow it to deliver multiple innovative products and act as a partner to the veterinary healthcare team in shortening the time to diagnose many diseases effecting dogs and cats.
Video Link: http://www.youtube.com/embed/43jCQISnkpI
Zomedica Capital Structure Shows Insiders Believe In The Corporate Vision
Zomedica continues to set new standards in the companion animal space with insiders holding a significant portion of the company's stock; the CEO reportedly owns roughly 35.7% of the outstanding shares. Investors considering a long-term investment opportunity in Zomedica will appreciate the value potential of the company's compelling pipeline of products, and a management team consisting of both medical and industry experts to spearhead near-term growth opportunities. Zomedica will complete validation studies for its first to market platform TRUFORMA in 2020. Both investors and analysts are taking notice of Zomedica's market opportunities, sending company shares higher by greater than 40% during the past two weeks. As investors become more acquainted with the company pipeline, speculation may be rising that TRUFORMA™ will be the first of many validated products capable of generating meaningful revenue from bringing innovative products that serve unmet needs of veterinarians to market.

TRUFORMA™:A Point of care Diagnostic Game-Changer
The company's flagship product TRUFORMA™, a point of care diagnostic platform, is building a reputation as a potential game-changing asset for veterinary practices. The clinically significant advantage of this inaugural device is that it allows veterinarians and their teams to take control of testing, diagnosing, and treating patients in a single clinic visit. This first-to-market point of care biosensor platform offers lab-quality testing, in substantially less time at an affordable price. In fact, preliminary data for some assays suggests that the TRUFORMA™ platform may be the only point of care diagnostic device capable of analyzing a sample and delivering accurate, reliable results in roughly fifteen minutes.
The first assays expected to be brought to market will be thyroid and adrenal disorders tests. Additional assays in development are expected to broaden the TRUFORMA™ platform and include assays to test for non-infectious gastrointestinal disorders, renal disease and diabetes. The new assays not only extend the revenue-generating capability of TRUFORMA™ for both Zomedica and its clients, but also demonstrates the utility and scalability of the platform.
Further distinguishing itself from existing vet-industry devices, TRUFORMA™ works through the application of bulk acoustic wave (BAW) technology to quantify analyte concentration by detecting changes in acoustic energy associated with analyte-antibody binding. While the technology is sophisticated, the process is simple. The platform's advantages have industry experts believing that TRUFORMA™ has the potential to change the landscape of point of care veterinary diagnostics.
A Complicated Test Made Simple With TRUFORMA™
The test requires only a small blood sample from a dog or cat patient. Investigation into sample preparation is ongoing and preliminary work indicates little to no sample preparation is required. Required sample type will be either whole blood or serum. The sample is inserted into a disposable cartridge, the machine calibrates the test parameters to the specific patient, and the "start" button is pressed. It's that simple. During the approximate fifteen minutes needed to produce results, a sensor located in the device's disposable cartridge detects changes in resonant frequency, which measures the quantity of a hormone. Changes in frequency are correlated with hormone concentration and an accurate measurement of the patient's hormone level is reported.
Given its ease of use, accuracy and rapid delivery of results compared to competing diagnostic methods, Zomedica anticipates selling TRUFORMA™ as a point of care instrument essential for growing patient standard of care and supporting clinic revenue. Perhaps the most compelling case for widespread adoption is the technology embedded into TRUFORMA™ can deliver reference lab quality testing directly to veterinarians and their teams in clinic, allowing them to have greater confidence and flexibility to diagnose, treat, and improve patient outcomes and pet owner experiences. TRUFORMA™ eliminates the time and labor required to send samples to a reference laboratory for testing, the high cost associated with reference laboratory testing, the chance for lost or misplaced samples at the reference laboratory, the time required for the veterinary healthcare team to follow up with clients, and the time for re-testing due to inadequate sample volume. In other words, TRUFORMA™ eliminates the delays that occur with reference laboratory testing and brings the focus back to where it belongs—the patient. By simplifying and streamlining the testing process, veterinarians can focus on providing effective, timely, and quality patient care. Zomedica anticipates TRUFORMA™ will become a best-in-class alternative to competing diagnostic options.
Collaboration Brings BAW Technology To Veterinarians
The potentially disruptive TRUFORMA™ diagnostic platform was designed in collaboration with Qorvo, Inc., a company that brings to the partnership years of industry-leading expertise in radio frequency solutions. Qorvo is currently developing BAW technology for human diagnostics. The partnership began with Zomedica's payment to Qorvo of $1M upfront and issuance of $3.9 million in shares for an exclusive worldwide veterinary commercialization license. In 2019, Zomedica paid an additional $5 million cash milestone. This partnership further allows Zomedica to benefit from Qorvo's manufacturing and distribution expertise. Zomedica will generate recurring revenues from the ongoing sale of disposable cartridges for testing purposes.
A Robust Zomedica Pipeline Can Create Substantial Shareholder Value
In addition to the planned TRUFORMA™ launch, Zomedica is preparing to bring two additional diagnostic platforms to market, each bringing unique and specific detection capabilities to the veterinary clinic.
Like TRUFORMA™, Zomedica's planned point of care pathogen detection diagnostic device (ZM-020) is designed to require minimal sample preparation. A small amount of feces or urine can be loaded into a disposable cuvette for testing by the device. This pathogen detection device detects fecal parasites and detects evidence of urinary tract disease, such as bacterial infection. Accurate, reliable results are reported in minutes at the point of care, eliminating the need to submit samples to the reference lab for routine patient care.
Zomedica's pipeline for diagnostic devices is rounded out by its canine circulating tumor cell or liquid biopsy platform. Zomedica's liquid biopsy platform offers assays to diagnose specific types of cancer, including canine osteosarcoma, hemangiosarcoma, and lymphoma. This device is intended for reference labs and only requires submission of a simple blood sample collected by the veterinarian. This device (ZM-017 and ZM-022) is moving through the investigational and development process.
Combined, Zomedica's suite of scalable assays, and devices are poised to deliver long-term, recurring revenue streams from client relationships secured by the sale of proprietary assays and device-specific consumables
A Busy Back Half Of 2019 Can Expand Zomedica's Reach
While TRUFORMA™ is Zomedica's current commercial focus, Zomedica is pursuing development of veterinary labeled drugs. Veterinarians often prescribe drugs labeled for use in humans because there is no veterinary drug equivalent. This practice leads to inaccurate dosing based on ambiguous dosing guidelines and anecdotal evidence, as well as reliance on compounding pharmacies. Zomedica is looking to capitalize on this significant market opportunity by developing an approved source of animal medications to help veterinarians improve patient care and grow in-house pharmacy revenue.
Dr. Stephanie Morley, Zomedica's Chief Operations Officer and Vice President of Product Development leads Zomedica's research & development efforts. Her experience as a clinically trained veterinarian and expertise in research and development guides Zomedica's long-term pipeline strategy and daily execution on that strategy.
Beyond targeting niche segments in the multi-billion-dollar companion animal healthcare market, investors are also taking notice of the inherent value already established at Zomedica. From an investment perspective, the company has a compelling technology offering, is strategically targeting unmet market needs, has a highly experienced management team, and is set to deliver innovative products to an estimated $19 billion market. The company trades on both the NYSE American and the TSX-V stock exchanges and offers both value and liquidity.
The stock is not subject to toxic convertible features and insiders own a significant portion of the shares. It may be a wise choice for long-term investment. The companion animal diagnostics and treatment market is growing by an estimated 7.9% annually, and Zomedica is set to begin commercial activities in 2020.
Media Contact
Company Name: Dolphin Digital Media
Contact Person: Kenny Soulstring
Email: Send Email
City: Miami Beach
State: Florida
Country: United States
Website: https://www.soulstringreport.com/