Guar Gum Market: Drivers, Restraints, Opportunities, and Challenges
The guar gum market is projected to reach $1.15 billion by 2022, at a CAGR of 7.9%
The report "Guar Gum Market by Function (Thickening, Gelling, Binding, Friction Reducing), Application (Food & Beverages, Oil & Gas, Paper Manufacturing, Mining & Explosives, Pharmaceuticals & Cosmetics), Grade, and Region – Global Forecast to 2022″, The market for guar gum is projected to grow at a CAGR of 7.9% from 2017 to 2022, to reach USD 1.15 billion by 2022. The growth of the guar gum market is driven by the rising demand for convenience foods in the food industry and growing demand for guar gum in the oil & gas industry. Growing awareness among consumers about health & nutrition has resulted in an increased interest in natural and organic products such as guar gum.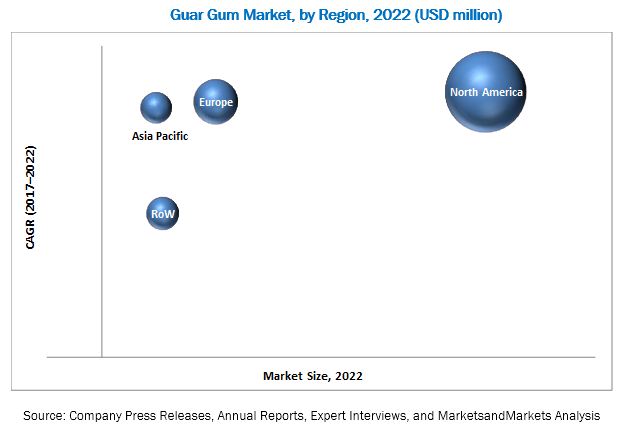 Increasing applications of guar gum owing to its multifunctional properties
Growing awareness among consumers about health & nutrition has resulted in an increased interest in natural and organic products such as guar gum. Guar gum, as a natural ingredient, has several health benefits, such as reducing serum low density lipoprotein (LDL) cholesterol and triglycerides, and increasing glucose tolerance. This has driven food manufacturers to use natural gums in various food applications. In the food industry, guar gum is used as a thickener, stabilizer, emulsifier, binding agent, coating agent, texturing agent, and gelling agent for frozen food products, baked food products, dairy products, sauces & salad preparations, confections, beverages, and pet food. Apart from the food industry, properties of guar gum such as binding, fracturing, water proofing, and gelling make it an ideal additive for different industries such as oil & gas, mining, explosives, textiles, pharmaceuticals, textile, and water treatment.
Download PDF Brochure: https://www.marketsandmarkets.com/pdfdownloadNew.asp?id=177796677
The main properties of guar gum are listed below:
1. Solubility in hot & cold water
2. Insoluble in most organic solvents
3. Strong hydrogen bonding
4. Thickening, emulsion, stabilizing, and coating
5. Flocculation and fracturing agent
6. High viscosity over a range of pH
7. Compatibility with a variety of inorganic and organic substances
8. Ability to control rheology by economic water phase management
9. Forms highly viscous colloidal dispersions in cold water
Lack of R&D activities in some countries
Although Asia holds the largest share in the production of guar and its derivative products, there is a lack of general R&D facilities focused on the guar industry in countries such as India and Pakistan. These countries do not have reputed R&D associations focusing on guar seed production, development of industry-specific products, manufacturing & processing technology, or plant & machinery along with no proper distribution infrastructure. Although there are some institutions in the country that are focusing on the development of certified seeds, agricultural universities and existing research institutions do not have the required resources and are facing a monetary crunch for undertaking research for the development of new varieties, optimizing product processing, and technology development. Even the farmers willing to use certified seeds are unable to purchase it at an affordable price. Along with these factors, human resources engaged in the guar industry would need to be trained to develop skilled manpower within the industry. Indian manufacturers need to divert a part of the revenue from export taxes to create national level R&D institutes for the purpose.
Speak to Analyst: https://www.marketsandmarkets.com/speaktoanalystNew.asp?id=177796677
Emerging markets that have immense potential
Emerging markets, such as China, present opportunities as they have wide availability of cheap labor and advanced technology. China is one of the major importers of guar gum from India. The leading market players are also expanding their facilities in China considering the future potential demand in the market. The processed food industry is growing in emerging markets, thereby creating an immense potential for guar gum. Processed food & beverages are expected to grow in double digits in emerging markets. Economic surges in India and China have led to the growth of the affluent urban population, thereby creating a bigger market.
Export-oriented commodity and unavailability of stocks
Being an export-oriented commodity, guar gum's price behavior in the domestic market is largely determined by the overseas demand of guar products. Guar gum is exported in large quantities to the U.S., China, Germany, and Spain. The market is characterized with the presence of several market speculators, as guar is an export commodity and a highly traded product. Excessive speculation is one of the key factors influencing the price of guar gum. The price of guar gum is also influenced by the stock position available in the market. Most traders store guar seed in their own storage structures instead of storing in accredited warehouses.
Media Contact
Company Name: MarketsandMarkets
Contact Person: Mr. Shelly Singh
Email: Send Email
Phone: 1-888-600-6441
Address:630 Dundee Road Suite 430
City: Northbrook
State: IL
Country: United States
Website: https://www.marketsandmarkets.com/Market-Reports/guar-gum-market-177796677.html