The latest album "Self-Deception" features Andrei Tabarna's best instrumental progressive compositions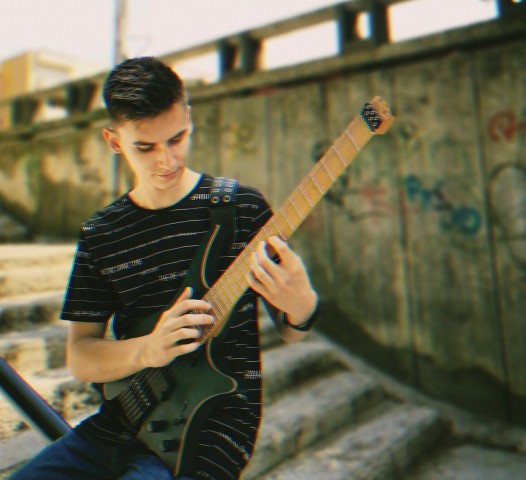 18-year-old guitarist from Romania, Andrei Tabarna is a talented musician who also writes and produces his music. Tabarna was exposed to music from an early age, mostly to the magic of guitar, and therefore, he started learning to play guitar when he was just 11 years of age. There was no turning back for him after that. Even after 7 whooping years, Tabarna is as smitten by this instrument as he was when he first held it in his hands. He eventually started writing songs, about 4 years ago. His love for music and passion for playing guitar is helping him to rapidly pave his way through the music industry.
Tabarna recently released his much-awaited debut album titled "Self-Deception" on October 9, 2020. This 8-song album comprises of an astounding piece of work by Tabarna, which has created a buzz among the people of all age groups ever since its release. The album comprises of songs including, "First Steps", "Hallucination", "Metamorphosis", "Neon Rain", Path of the Samurai", "Collision", "The Time Machine", and "Game Over".
"This album was all about the exploration of different sounds and voices on my instrument. I wanted to have as much diversity and creativity as possible, while still being cohesive. I hope I achieved that", says Tabarna, while telling about his debut album.
All the 8 tracks in this album are written based on Tabarna's different personal life experiences and emotions. The best part about this album is that it has been produced, mixed, and mastered by Tabarna himself, which as a guitarist were not his strengths, but the outcome is breath-taking!
When it comes to playing guitar, Tabarna is inspired by the likes of John Petrucci, Jason Richardson, Tosin Abasi, and Paul Gilbert. "My music is mainly inspired by the feeling that I get when I listen to a totally new and exciting song. That sense of curiosity, mystery, and wonder is what drives me to write pieces that will have the same impact on my audience. That's why I always try to be innovative", adds Tabarna.
Tabarna likes to categorize his music style as "instrumental progressive metal music". But his musical inspiration comes from all the genres equally, be it classical, Latin, jazz, or traditional Romanian music. Elements of different music styles can be found in the unique music that he creates.
Tabarna's love for playing guitar has helped him achieve many milestones at such a young age. One of these milestones was bagging the first prize at Iasi Guitar Festival, which is the only national guitar competition in Romania.
Tabarna urges his listeners to listen to his latest music with an open heart and an open mind, as there is something in it for everyone. He asks his fans to stay tuned for more upcoming music.
Listen to the album "Self-Deception" now on leading music platforms through this link.
Media Contact
Company Name: Andrei Tabarna Music
Contact Person: Andrei Tabarna
Email: Send Email
Phone: (+4) 0758 251 009
Country: Romania
Website: www.youtube.com/c/AndreiTabarna