Control Technologies FZE, Cements Name as UAE's Top Supplier of Dehumidifiers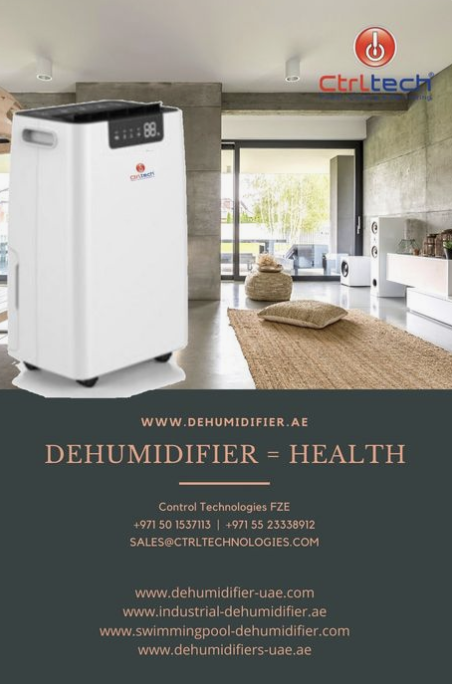 December 4, 2020 – After many years of catering to the need for complete dehumidification solutions in the Middle East, Control Technologies FZE has now become the UAE's oldest and most reliable dehumidifier supplier. In operation since 2008, Control Technologies FZE is a one-stop-shop based in Dubai City where HVAC or Swimming pool contractors can find a range of dehumidifiers tailored for domestic and industrial. The company's services also cover swimming pool dehumidifiers.
Like most Middle Eastern countries, UAE has long coastal boundaries making the region a hot and humid one. High moisture content in the air can make life uncomfortable at home or office, increasing allergies' risk. Low humidity conditions are essential to industrial production and storage facilities. Indoor swimming pools to be they domestic or public facilities, continuously face humidity issues throughout the year because of the added presence of water.
Providing dehumidification solutions for every need is Control Technologies FZE or CtrlTech, offering HVAC contractors, swimming pool contractors, cold room equipment suppliers, and Industrial manufacturing firms in the Middle Eastern region with reliable & low-cost world-class dehumidification units to reduce moisture in any industry or client they service.
CtrlTech's industrial dehumidifier products are designed for high drying capacity and airflow to cover large areas ideal for spacious offices, warehouses, and production lines. All products feature eco-friendly, energy-efficient components with durability for long life. Industrial dehumidifiers are suitable for industries like pharma factories, commercial laundries, open kitchens, and marine companies to safeguard produce and control corrosion. A commercial dehumidifier is essential to reduce moisture to maintain production quality.
The company also offers a portable dehumidifier range for homes and small offices to improve air quality and prevent mold, fungus, and bad odors. The special dehumidifier is a perfect drying solution for cold rooms, warehouses, spas, gyms & museums.
Control Technologies FZE (CtrlTech) is based in SAIF Zone Sharjah, (Dubai City), UAE. The company was established in 2008 to offer an economical and reliable solution for Power, Cooling, Monitoring, & Dehumidification throughout the Middle East, including areas of Dubai, UAE, Saudi Arabia, Oman, Qatar, and Bahrain. CtrlTech is on a mission to be a global total solutions and service provider for infrastructure and designing of Tier 4 data centers, providing building, power supply, distribution, protection and conditioning equipment required between the power grid and computer chip and a leading green dehumidification solution provider in the Middle Eastern Region.
The "CtrlTech" brand's unique dehumidification solutions has won the trust of thousands of clients and now shares a vision:
To provide one-stop green, economic Solutions & Services of Power, Cooling, Monitoring & Dehumidification for critical applications with Quality & Reliability to achieve high uptime through a satisfied, trained workforce.
For more information: www.dehumidifier-uae.com
Media Contact
Company Name: Control Technologies FZE
Contact Person: Engr. Pramod Khedekar
Email: Send Email
Address:PO Box 122271, SAIF Zone
City: Sharjah
State: Dubai
Country: United Arab Emirates
Website: http://www.dehumidifier-uae.com