e-Delaware Enjoy Rave Reviews For Their All-Inclusive Online US Business Formation Platform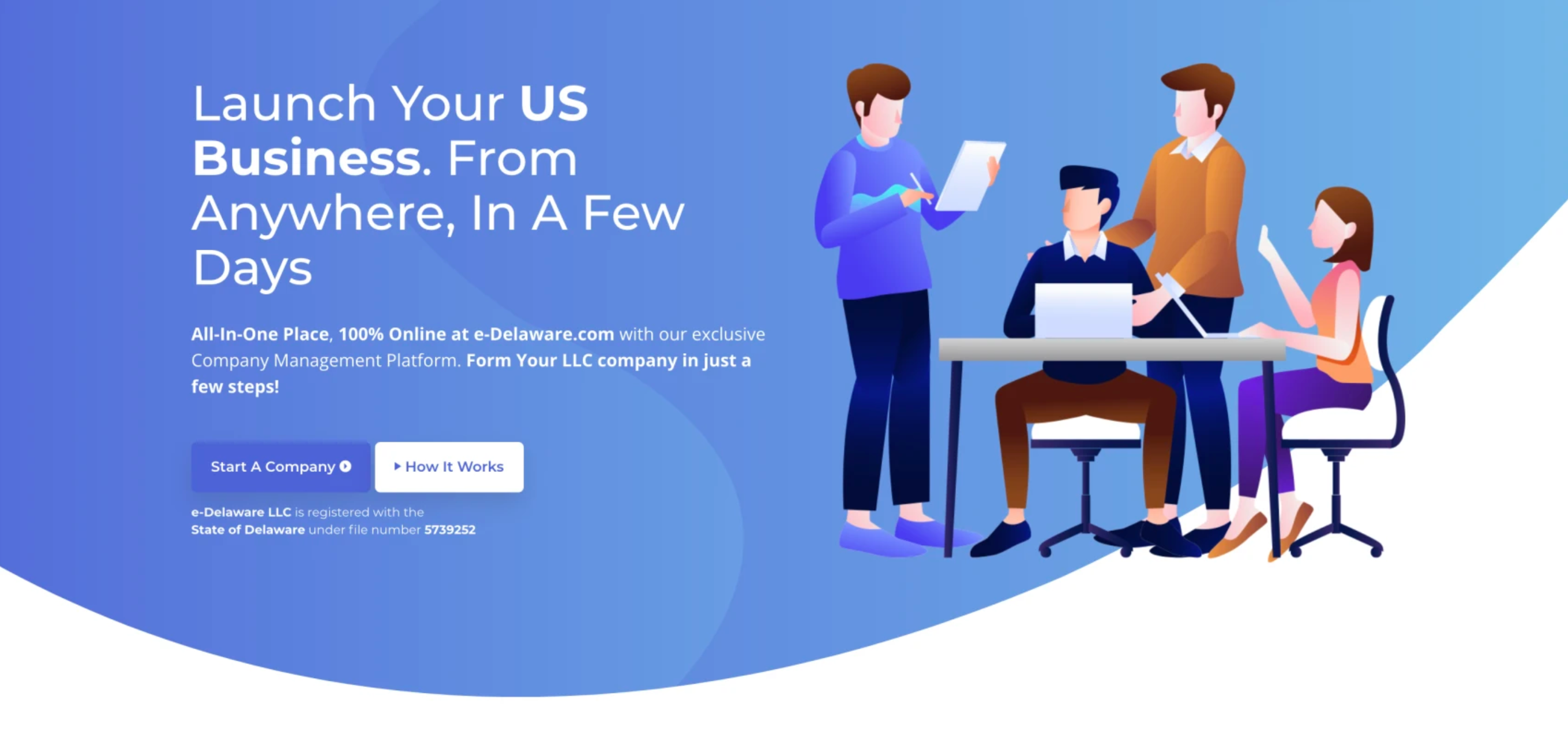 Innovative business solutions provider, e-Delaware, eases the process of setting up a business in the USA by leveraging tech solutions, amidst accolades from founders worldwide
e-Delaware can be rightly described as a revolutionary business solution designed to help all categories of founders to incorporate in the US and have access to one of the biggest economies in the world. The all-in-one platform has a user-friendly interface and a remarkably low fee that allow users to enjoy "the easiest and most secure way to Form an LLC company in the United States."
Overview Of The United States Economy
The United States is ranked as the biggest economy in the world, with a GDP of over $20,807.27 billion. The country's economy has witnessed tremendous growth over the years, safe for the Covid-19 pandemic, which dealt a heavy blow on nations worldwide. The fantastic business environment has continued to attract thousands of businesses across different industries as they look to reach a wider international audience, with over 627,000 new businesses opening each year, according to SBA estimates. Despite the amazing figures of business incorporation in the US, thousands of entrepreneurs still find it difficult to incorporate their businesses in the country.
Registering A Company in The USA
Starting a business in the United States of America is relatively easy, compared to other parts of the world, as non-residents are allowed to own a venture in the country. In the case of the U.S., persons are not required to have a visa or even visit the country, as they can manage an LLC from another country as long as they have a valid work visa.
Non-citizens can also be shareholders and/or directors of a company within the US. However, non-US citizens need to have a visa to be an officer and perform any duties in the country. It is also not a requirement to be a citizen or resident to open a small business in the United States.
Despite the seemingly easy process of opening and running a business in the United States, thousands of innovators and founders still struggle to live their dreams of setting up a company in the country. However, the team at e-Delaware has simplified the process by allowing anyone to set up a company in the USA and handle all business-related transactions, irrespective of their location across the globe.
Features of e-Delaware
e-Delaware aims to make it a lot easier for users of the platform to build global products, with a process that takes a few minutes to complete. The team helps potential business owners to obtain their tax ID numbers, EIN, and ITIN, as well as get a US SimCard and a US address for their company. Some of the amazing features and services offered by e-Delaware are briefly highlighted as follows:
US Business Formation
Thanks to a team of highly experienced professionals, e-Delaware offers company formation to clients across the globe. The service allows entrepreneurs to incorporate in Delaware, with the process 100% online, helping to save the resources – time and money of clients. e-Delaware has already filed for more than 4,750 companies with over 35,480 global customers.
US EIN (Tax ID)
e-Delaware also helps business owners to get their Employer Identification Number (EIN), without being a US resident or providing an Employer Identification Number (EIN). The service makes it possible for businesses to complete their federal filings and open bank accounts, irrespective of the location of the owners.
Apostille
e-Delaware also helps businesses to authenticate their state-issued legal documents, making them valid in member countries of the Hague Convention. This further gives the business an easy way of expanding their brand to more nations.
DUNS
Otherwise known as the Data Universal Numbering System, DUNS is used to identify businesses worldwide and can serve as an international trade registration number. e-Delaware helps clients to get the number, ultimately putting them on the path of global recognition.
Post Formation Documents
e-Delaware manually prepares a set of essential legal documents after incorporation, providing clear and necessary information about company owners, operations, and other vital details about the company.
In addition to the services listed above, other business solutions offered by e-Delaware are US Address Setup, registered agent, and Individual Tax Identification Number for filing federal income tax returns in the absence of an SSN.
Feedback From Clients
e-Delaware seems to have done extremely well over the years, judging by the reviews from clients and the increasing popularity of the platform and the services offered. "I needed a US phone number for my US business, but didn't know to access it from my country. Fortunately, e-Delaware has a service that offers it. shortly after buying the service, they sent a sim card with a US phone number to the country I was in. I have been using this sim card for 8 months now and I can say that I am very satisfied with the card. I travel a lot for my business and no matter where I was in the world, my phone line was always active, able to receive calls and send messages anywhere. In the cargo they send, there is also an explanatory guide on how to install the sim card. The fact that they thought about it shows how much they care about their work and customer satisfaction," said Florence W.
For more information about e-Delaware and the services available on the business solutions platform, visit – https://e-delaware.com/. e-Delaware can also be found across several social media platforms, including Facebook and Instagram.
About e-Delaware
e-Delaware was founded with the primary goal of making it easy for founders to incorporate in the US and get access to start-up infrastructure, venture capital, seamless payment processing, and other benefits, irrespective of their location worldwide. Registered with the State of Delaware, the platform assists in obtaining tax ID numbers, EIN, and ITIN, provide you with a US SimCard and a US address that can be used for the business. e-Delaware helps business owners to authenticate their documents with the State of Delaware.
Media Contact
Company Name: E-Delaware LLC
Contact Person: Spokesperson
Email: Send Email
City: Newark
State: DE
Country: United States
Website: https://e-delaware.com/