Grinding characteristics and application range of sanding belt
The abrasive particles of coated abrasives are uniformly distributed on the surface of the substrate, and the abrasive particles are basically distributed in single layer. The special abrasive used by coated abrasives, the particle content is required to be higher, the particle size is uniform, so that the surface of coated abrasives have a good contour arrangement, especially the modern coated abrasives production using the electrostatic sand planting process, to ensure that the sharp angle of the abrasive grains outward, abrasive directional arrangement. The directional arrangement and isometric characteristics of coated abrasives are important factors for high efficiency and cold grinding of coated abrasives.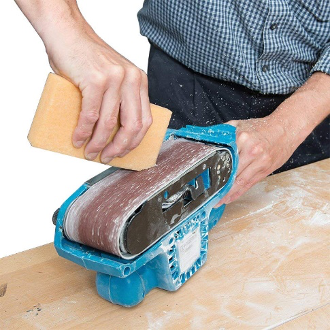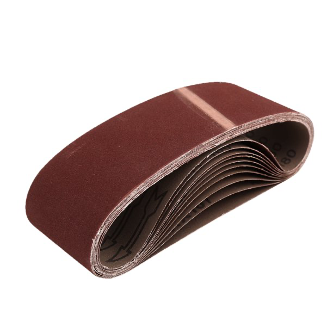 The sanding belt is a ring type coated abrasive. Due to the invent of sand belt, the coated abrasive tool has become the transformation from manual application to modern grinding mode. The common sanding belt can be divided by no joint sand belt and joint sand belt.
The linear velocity of the belt is generally within the range of 15m/s — 35m/s and rarely exceeds 50m/s. The grinding characteristics of the belt are as follows:
(1) Sanding belt can solve other grinding tools can not solve the grinding, such as large area and complex surface grinding.
(2) High grinding efficiency, less heat accumulation, fast heat dissipation, not suitable to burn the workpiece
(3) the processing surface quality is good
(4) The equipment is simple, easy to operate and safe to use
(5) Less power consumption and energy saving
The basic forms of sanding belt grinding are as the following image
From left to right: contact grinding, plate grinding and freestyle grinding.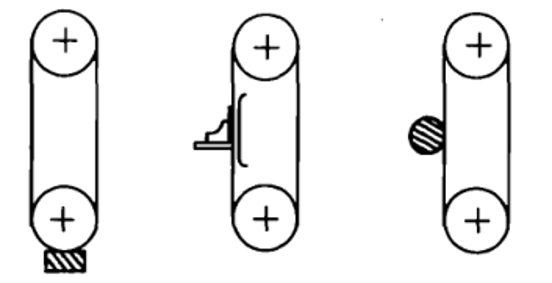 Factors affecting grinding of a sanding belt are as follows:
(1) The material, hardness, diameter and shape of the contact wheel
(2) The speed of the sanding belt: the higher the speed of the sanding belt, the more abrasive particles involved in grinding per unit time, the greater the grinding amount, the better the surface smoothness.
(3) The tension of the belt: the belt will have the ability to grind in a tight state, so the greater the surface tension of the belt, the greater the grinding amount
(4) Contact pressure: when the sanding belt is grinding, the greater the pressure in the grinding area, the greater the grinding amount
(5) Coolant: in order to prevent the burning of the workpiece, reduce the blockage of the sanding belt, and improve the finish, so the coolant containing active ingredients can improve the grinding efficiency.
The sanding belt is a single layer abrasive tool, its performance is determined by its various parts, the modern coated abrasive production process for the substrate of the sanding belt, abrasive particle, binder and the planting density of the particle requirements are extremely strict, because this is the quality assurance of the sanding belt. Understand the characteristics of sand belt and grinding characteristics can better for you to choose their own sand belt.
If you want to see our BINIC Wheel ranking among these brands, please e-mail me at: [email protected]
For more details at: www.binictools.com
Media Contact
Company Name: BINIC ABRASIVE
Contact Person: Media Relations
Email: Send Email
Phone: +86 21 64401165
Country: China
Website: https://binictools.com/