A Brief Introduction To Ipl Laser | Sincoheren
IPL laser is the most powerful intense pulsed light (IPL) to treat pigmented, vascular lesions & acne skin. In just 1-3 sessions IPL laser improves the appearance of age spots, sun damage, vascular lesions, rosacea and freckles. This aids in improving complexion and anti-ageing the skin. IPL laser boasts the fastest IPL Results *Clearance in 1-3 sessions, compared to 4-5 sessions with competing devices.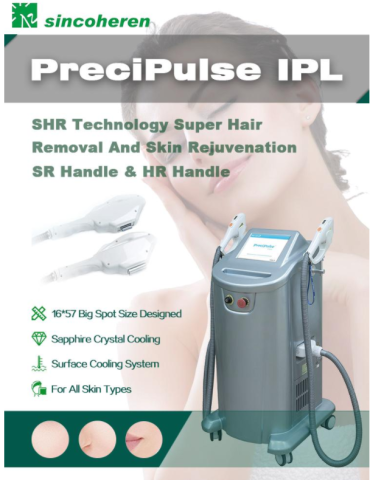 What areas can you treat with IPL laser?
IPL laser can be used on all areas of the body. Common treatment areas include: face, neck, legs, hands and arms
How does IPL laser work?
IPL laser is a breakthrough intense pulsed light (IPL) that delivers up to 3X more energy in the 500-600 nm range to improve efficacy for vascular and pigmented lesions.
Benefits of IPL laser:
• High efficiency of vascular and pigmented lesions due to high peak power and optimized output.
• Complete photo rejuvenation in 1 or 2 treatments versus 4-6 treatments with standard IPL's.
• Reduces treatment time thanks to large spot size and high pulse repetition rate.
• Strong sapphire cooling tip results in painless procedure.
• Fast pulse repetition rate at all settings. Highest peak power 3300W
• IPL laser treats a wide array of skin rejuvenation concerns with a custom xenon flash lamp delivering 40% of total pulse energy in the 500-600 nm range (sweet spot of hemoglobin and melanin absorption), while standard IPL's only deliver 10-15%.
If People are interested in this machine, please fell free contact Sincoheren!
Media Contact
Company Name: Beijing Sincoheren S&T Development co., Ltd.
Email: Send Email
Phone: +86 137 1859 3357
Address:4th Floor, Block A, Jinyun Building, No.43, North Street, Xizhimen
City: Beijing
Country: China
Website: https://www.cntopsincoheren.com/