The Baby Cot Shop Reveals The Latest Nursery Trend: Interiors of hope

In January 2021, The Baby Cot Shop unveiled a new campaign that would change the way mums design their baby nurseries. Introducing The Interiors of Hope campaign – a response to the hardships of the global pandemic, helping parents focus on creating a positive, hopeful hub for little dreamers.
Fast-forward to September 2021 and the Chelsea-based boutique store is paving the way for future nursery trends once again, launching the Interiors of Hope campaign 2.0 to celebrate motherhood, inspirational nurseries and symbols of hope.
The new Interiors of Hope campaign offers parents a helping hand with nursery prep, décor inspiration and which trends to the sport.
Making interior design meaningful, The Baby Cot Shop are changing the way parents kit out their baby nurseries, making it more of a mindfulness activity than a minefield. Leading the way for mums-to-be experiencing different pregnancy journeys, the campaign promotes ideas for joyful, calm and uplifting interiors, all inspired by the magic of childhood (in the most elegant, bespoke style, of course).
The Interiors of Hope campaign proves that nursery spaces can uplift and inspire mums, especially through tough times.
INTERIORS OF HOPE: MEANINGFUL NURSERY DÉCOR FOR A/W21
Trend #1: Hot air balloons galore
Up, up and away! Charming and enchanting, hot air balloons denote freedom, serenity and happily ever afters. With a vintage, whimsical vibe, they offer a timeless feel like no other, so they'll seamlessly blend in with your surroundings. One thing's for sure – a nursery kitted out with hot air balloons will make you smile every time you walk in.
Trend #2: Here comes the Sunflowers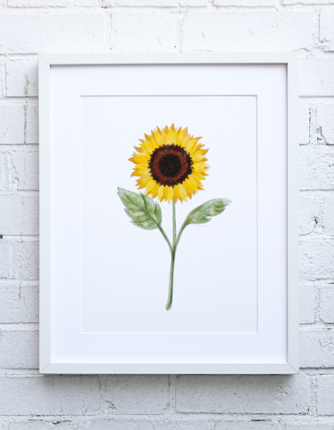 Sunflower décor is a winner if you're looking to add a radiant, vibrant feel to their room. Naturally adding oomph to neutral colour palettes, these flowers are perfect for both unisex or gender-specific nurseries. What's more, they symbolise happiness, loyalty and vitality, so they're pretty perfect for brightening up any nursery.
Trend #3: Rainbow fever
Rainbows are powerful symbols for so many people, especially pregnant mums-to-be. And the trend has been booming over the last few years. Why? They're a visual reminder of hope after tough times, positivity, good luck, courage and new beginnings. Plus, they add a much-needed pop of colour and joy. When it comes to heartfelt nursery décor, rainbows are a no-brainer.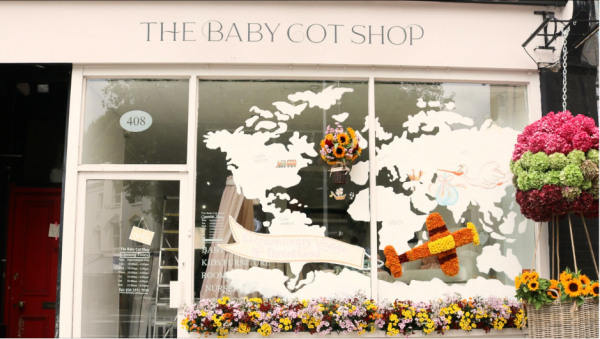 THE BABY COT SHOP x CHELSEA IN BLOOM: A FLORAL DISPLAY OF HOPE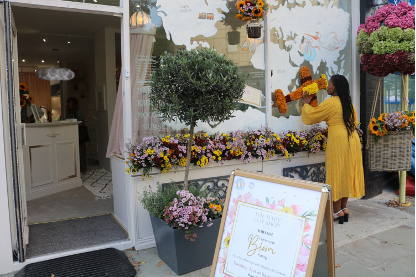 To celebrate Chelsea in Bloom 2021, The Baby Cot Shop gave their storefront a breath-taking floral makeover, which won a bronze award. Leading with the theme of Extraordinary Voyages, the display took inspiration from their Interiors of Hope campaign, featuring a hand-painted world map, floral hot air balloons and a bed of sunflowers.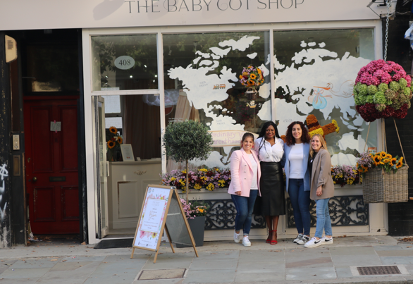 Putting a motherhood spin on the Extraordinary Voyages theme, The Baby Cot Shop's window was all about extraordinary parenting journeys. Playfully displaying modes of transport such as trains, planes and hot air balloons, the artwork symbolised that every mum is on their own beautiful journey and unique 'mode of transport.
The fun didn't stop there. On 21st September, The Baby Cot Shop hosted a private party, inviting customers, mum friends and neighbours to visit their stunning Chelsea in Bloom makeover.
"The Chelsea in Bloom window makeover was a huge success. The theme of Extraordinary Voyages tied in beautifully with our Interiors of Hope campaign, featuring positive symbols such as the rainbow, hot air balloons and sunflowers," says The Baby Cot Shop's founder, Toks. "We were able to connect travel with the journey of parenting, represented through a stork. It perfectly displayed that parenting can be laborious at times, but often joyful and full of hope too. We are thrilled to have been awarded Bronze and be recognised as a small business that can bring heart-warming moments to all."
ABOUT THE BABY COT SHOP
The Baby Cot Shop was founded by internationally acclaimed entrepreneur Toks Aruoture in 2008, who is known for being the leading authority on luxury nursery spaces. The boutique store, located on the prestigious King's Road, holds a reputation for being the most premium, bespoke nursery shop in Chelsea.
It aims to help mums create a magical nursery space for little ones to sleep, play and explore in. From the enchanting Notte Fatata Castle Bunk Bed to the ultra-stylish Cadogan Cot Bed, each piece of handcrafted furniture exudes elegance and charm.
With its high-flying, the international client base of celebrities, sports personalities and royalty, The Baby Cot Shop offers a tailored approach to nursery shopping, allowing customers to design every corner of their child's room – from fabrics to hues.
Amongst the most popular services is The Baby Cot Shop's Interior Design Service. With over 10 years of experience, the team bring nursery and kids room visions to life through consultations, mood boards, fabric samples, styling and fitting, providing tradesmen and making sure dreams become reality.
The Baby Cot Shop can be found online and in their Chelsea boutique HQ
W: thebabycotshop.com | I: https://www.instagram.com/thebabycotshop/
collaborate or request media information: [email protected]
Media Contact
Company Name: The Baby Cot shop
Contact Person: Kelly Jackson
Email: Send Email
Phone: 0203 371 7530
Address:408 King's Road
State: London SW10 0LJ
Country: United Kingdom
Website: www.thebabycotshop.com