Australians Being Encouraged to Plan Ahead As Government Launches 'The Gift of Travel' Campaign
The Latest Version of the Government's 'Holiday Here This Year' Campaign Launched This Week but Tourists Are Being Warned to Plan Ahead to Avoid Disappointment
Brisbane, Australia – 15th November, 2021 – Australia's Federal Government have spent $8 million on the newest iteration of the 'Holiday Here This Year' campaign first launched in January 2020. After being hit by the double blow of the devastating 2019-20 summer bushfires and the global COVID-19 pandemic, the Australian tourist industry needs support. With travel options limited, the aim is to get Australians to holiday in their own country.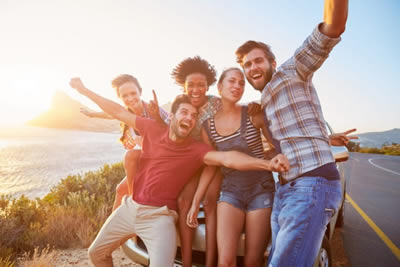 The original campaign was viewed as a success and so the Government has invested in a new version for Autumn 2021. The focus this time is to inspire Australians to buy a travel experience as a present during the holiday season. Mandie van der Merwe, of M&C Saatchi Sydney said "Australia is the greatest gift shop in the world. It's full of the most incredible experiences with which to treat someone you really care about. Not to mention, by giving a holiday here this year, you're helping the tourism industry recover. It's like a double present – someone gets a gift they'll never forget and the industry gets the support they need." Phillipa Harrison, the managing director of Tourism Australia, adds "The Gift of Travel is about encouraging Australians to give more meaningful gifts this holiday season and in doing so give back to tourism operators and communities who have been among the hardest hit by the COVID-19 pandemic. We know from our research that there are high levels of pent-up tourism demand in Australia, so by giving the gift of travel, people can be sure they are giving a gift that people will want. So, rather than giving socks give a surfing lesson or a walking tour."
While the tourism industry welcomes the boost of the latest Government campaign there are some concerns about the availability of car hire for the new wave of domestic tourists. "We are feeling the effects of a number of factors on the car hire industry," explains Joe Gubecka CEO of Alpha Car Hire. "The pandemic led to many car rental companies reducing their fleets. With travel now becoming less restricted they are looking to increase their numbers again but finding it difficult. The worldwide shortage of semiconductors and shipping issues has meant less new cars have been received in Australia. This has made the market for second-hand cars expensive and there just aren't the cars available to buy."
Another unexpected issue is the pattern of car hire usage of domestic tourists. "Oversees tourists are not always confident enough to drive themselves in a foreign country. They are much more likely to travel in groups on buses," Joe tells us. "Our native Aussies are familiar with our road systems and they are much more likely to choose to self-drive. So the demand for car rentals is much higher."
Due to this, Joe strongly advises planning and booking your trip well in advance. "Booking a car should be stress-free and straightforward but it often isn't. At Alpha Car Hire we have an easy to use online booking system but we also have a friendly team you can call and speak to at any time. We understand that booking in advance means that plans can change, which is why we offer rental duration extension options and reservation modifications after confirmation."
Another thing to consider is trying something a but different. "During peak times, such as school holidays, it is going to be even harder to find available car hire. If you can, travel at a time that isn't so busy," suggests Joe. "Popular places, like Cairns and Tasmania, are going to see more demand too so maybe consider going somewhere not as well-known."
Tourism Australia can help with this. To tie in with the 'Holiday Here This Year' campaign, on their website they provide lots of information to inspire any kind of trip, including a quiz if you are really stuck for ideas.
Usually December and January are the peak months for travelling in Australia and this year this is likely to be increased by the recent lifting of pandemic restrictions. With the Government encouraging more travel and a wonderful country to explore, the Australian tourism industry is looking forward to a busy Summer. For tourists this is great news but it would be wise to start planning and booking now.
Media Contact
Company Name: Alpha Car Hire
Contact Person: Magdalena Kusyk
Email: Send Email
Phone: +61 1300 227 473
Address:511B Nudgee Rd Hendra
City: Brisbane
State: Queensland
Country: Australia
Website: https://alphacarhire.com.au