Electric Bus Market Size, Future Opportunity, Current Challenges, Geographical Regions and Forecast to 2026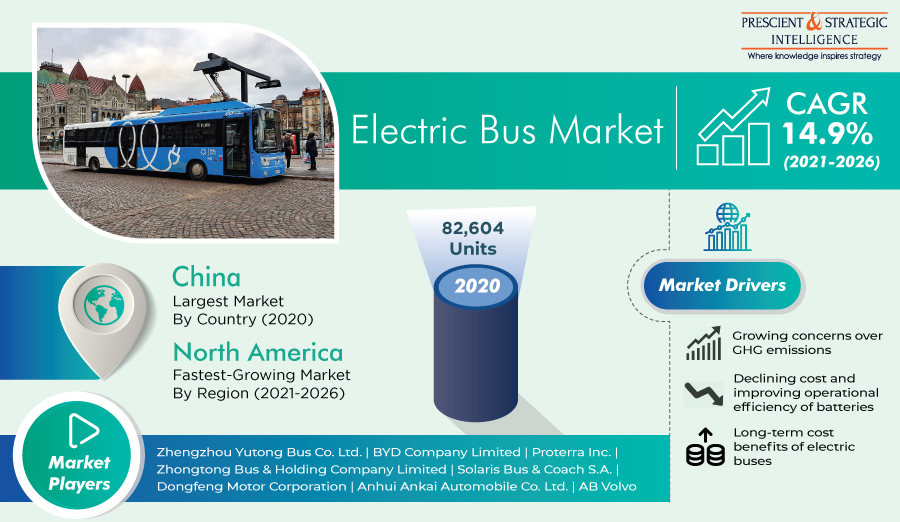 Geographically, Asia-Pacific accounted for the largest share in the electric bus market in 2020. This is mainly ascribed to the escalating electric bus sales in China.
Factors such as the increasing environmental concerns due to surging greenhouse gas (GHG) emissions and improving operational efficiency of batteries and plunging battery costs are expected to propel the electric bus market at a vigorous CAGR of 14.9% during the forecast period (2021–2026). According to P&S Intelligence, 82,604 units of electric buses were sold in 2020. The burgeoning demand for these buses can also be ascribed to the long-term cost benefits offered by them.
The electric bus demand is being driven by the declining costs and improving operational efficiency of batteries. This energy storage device accounts for approximately 40% of the production cost of such buses. Moreover, the increasing battery capacity, on account of continuous technological advancements, will also propel the demand for electric buses, as such batteries assist in meeting the rising need for a longer driving range. Currently, market players are working toward achieving higher energy density and reducing reliance on cobalt, which is an expensive raw material used in batteries, to boost the sales of electric buses.
Request for sample pages of this report: https://www.psmarketresearch.com/market-analysis/electric-bus-market/report-sample
In recent years, the emergence of semi-autonomous and autonomous transportation systems, owing to the advancements in instrumentation and sensing and actuation technologies, has become a major trend in the electric bus market. Autonomous buses are equipped with advanced features such as computer-aided vision, light detection and ranging (LiDAR), global positioning system (GPS), and odometer, which assist in perceiving the surroundings. Moreover, the autonomous technology provides reduced costs, such as labor, fuel, and maintenance costs, and improved efficiency, including more-predictable commute times.
The type segment of the electric bus market is classified into battery electric bus (BEB), hybrid electric bus (HEB), and plug-in hybrid electric bus (PHEB). Among these, the BEB category generated the highest revenue in 2020, and it is expected to continue this trend throughout the forecast period. This can be owed to the surging government support, in terms of subsidies, incentives, and tax benefits, toward BEBs. Moreover, the increasing production of BEBs will also drive the demand for these variants globally.
Globally, Asia-Pacific (APAC) accounted for the largest share in the electric bus market in 2020, due to the presence of favorable government policies, such as tax rebates and discounts for replacing fossil fuel-driven buses with alternative fuel variants. For instance, the Government of China provides a subsidy of up to RMB 500,000 (around $72,500) for fuel cell electric buses. Furthermore, the National Development and Reform Commission (NDRC), Ministry of Transport (MoT), Ministry of Finance (MoF), Ministry of Housing and Urban-Rural Development (MoHURD), and Ministry of Industry and Information Technology (MIIT) promote the adoption of electric buses in China.
Browse detailed report on Electric Bus Market Growth Analysis, Opportunities, Trends, Developments and Forecast to 2026
Whereas, the North American electric bus market is expected to demonstrate the fastest growth during the forecast period, owing to the presence of stringent emission norms in the region. In North America, the U.S. generates higher demand for electric buses, due to the enormous subsidies, tax credits, and financial incentives offered by the federal and state governments. Additionally, government initiatives such as exemption of such new energy buses from vehicle emission tests and toll charges also contribute to the market growth in the U.S.
Therefore, the lowering cost and improving efficiency of batteries and rising concerns being raised over GHG emissions are the prominent growth drivers of the market.
Market Size Breakdown by Segments
By Vehicle
Battery Electric Bus (BEB)
Plug-In Hybrid Electric Bus (PHEB)
Hybrid Electric Bus (HEB)
By Length
More Than 10 m
Less Than 10 m
By Battery
Lithium–Iron–Phosphate (LFP)
Lithium–Nickel–Manganese–Cobalt Oxide (NMC)
By End User
By Geography
Asia-Pacific
Europe

U.K.
Germany
Netherlands
Lithuania
Austria
Belgium
Poland
Sweden
Spain
France

North America
Rest of the World
Browse Other Related Reports
Electric Bus Charging Station Market – Globally, the electric bus charging station market registered the highest growth in Asia-Pacific (APAC) in the past, due to the large-scale deployment of electric buses in China. In the forthcoming years, the demand for electric bus charging stations will rise rapidly in North America.
Electric Bus Market in India – The Indian electric bus market is expected to witness a notable CAGR of 48.8% during the forecast period (2021–2025), owing to the accelerating urbanization rate, rising environmental concerns, increasing number of government legislations and schemes supporting the electric vehicle (EV) industry, and surging EV production in the country.
Media Contact
Company Name: P&S Intelligence
Contact Person: Abhishek
Email: Send Email
Phone: +918887787886
Address:Noida Sector 2
City: Noida
State: UP
Country: India
Website: https://www.psmarketresearch.com/market-analysis/electric-bus-market