The Fifth World Conference on Integrated Medicine
Celebration of Traditional Chinese Medicine (TCM) being included in the World Health Organization (WHO)'s Global Medical Compendium for the first time.
From: December 17-19, 2021
At: Silicon Valley, USA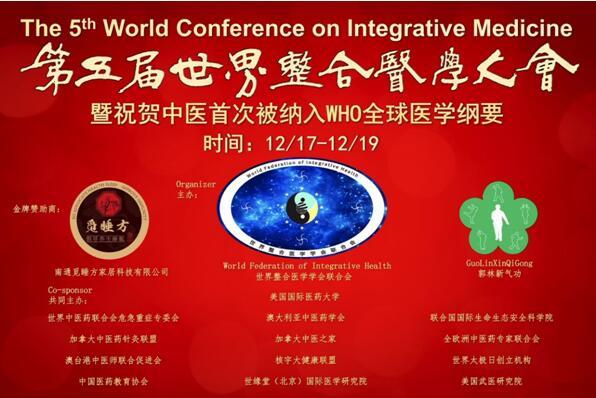 The Fifth World Conference on Integrated Medicine and Celebrations on Traditional Chinese Medicine (TCM) being included in the World Health Organization (WHO)'s Global Medical Compendium for the first time will be held from December 17th to 19th, 2021. This conference will be held virtually online and on-site at the International Medical University in Silicon Valley, USA. Dr. Wang Yingqiu, Chairman of the World Federation of Integrative Medicine Societies, said that the theme of this conference is "Global Health – Medicines from ALL Disciplines." This conference is organized and sponsored by the World Federation of Integrative Medicine Societies, Dr. Tao Yiqing, International Medical University, Dr. Fang Bangjiang, Critical Care Committee of the World Federation of Chinese Medicine, Dr. Zhu Miansheng, European Federation of Chinese Medicine Experts, Australia Asian Society of Chinese Medicine, Zheng Jianhua; New Guo Lin Qigong, Master Wang Jian, Canadian Chinese Medicine and Acupuncture Alliance, Dr. Huang Guojian, Nuclear Universe Health Alliance, Dr. Wang Yingqiu, Canadian Chinese Medicine Home, Li Ronggang, United Nations International Academy of Ecological Life Safety Science, Huang Zhengming, World Taiji Day, Mr. Bill Douglas, China Medical Education Association, Zhu Zhenggao, Macau-Hong Kong-Taiwan Chinese Medicine Practitioners Council, Lu Zhipeng, and representatives representing 15 international organizations; World Forum on Traditional Medicine; American Association of Chinese Medicine, France Traditional Chinese Medicine Association, and nearly 80 international organizations around the world.
Dr. Fu Xueli, Executive Chairman of the World Society of Integrative Medicine, said that the conference preparations were initiated one and a half months ago, and several internationally renowned academicians including Dr. Huang Zhengming, and Dr.
Qiao Zhenghua and Dr. Wei Kun, and masters of Traditional Chinese Medicine including Wei Guikang, Li Diangui, Sun Guangrong, and top practitioners from several countries representing Chinese Medicine, Western Medicine, Chiropractic, and Physical Therapy…will also attend the conference. The Ambassador to the United Nation and Dr Zhang Boli will also deliver special speeches at the conference.
Some featured participants include Jiao Shunfa, Song Zhenzhi, Lu Shengchun, Bo Zhiyun, Liu Feng, Cheng Xiaoming, Guo Tingying, Qian Dejin, Wu Jihua, Yan Chongwen, Zhang Jun, Zhang Ying, Lei Dabin, Ren Liping, Wang Jun, and Liu Jianghua… Participants representing Western Medicine are Rarger, Mei Heyong, Spine Ed, Such as natural David, Zhang Jianchao and other physical therapy doctors Jasse and other clinical masters. Academician Zhang Boli and the United Nations Chinese ambassador also will give speeches, as well as Li Deyin, Xiao Jiaze, Zhao Youbin, Fu Qingquan, Zhong Zhenshan, Zhu Miansheng, Yu Jiansheng, Zhao Hongsheng, Zhao Guiying, Li Hui, Ye Zhiwei, Weng Qixiu, Li Shudong, Fu Xueli, Liu Suibin and other masters of Tai Chi, Qigong will present at the conference. The conference has received nearly a hundred presentations from experts from more than 80 countries. The Chairman of the Expert Committee of the conference, Lu Biao, said that the conference is divided into four forums:
Celebrating that TCM has been designated as the mainstream medical forum by the World Health Organization (Chinese Medicine Acupuncture Forum) from 2022
Forum to celebrate the anniversary of the successful application of Tai Chi (Tai Chi, Qigong Forum)
Integrated Medical Therapy Forum
Big Health High-dimensional Biological Health Products Forum
Dr. Jiang Dan, Chairman of the Academic Committee, has announced that there will also be small sub-forums such as International Medical University postdoctoral and Traditional Chinese Medicine Heritage reports, Nuclear Medicine Forums and other sub-forums. As the world faces the global health threats of the pandemic, and eagerly pursuing better health, the new variant of the Coronavirus poses new threat to our health, the United Nations Health Organization (WHO) has officially included Chinese Medicine in the World Medical Program. This is a historic moment that mainstream medicine recognizes Traditional Chinese Medicine and its contribution to global health care. The conference has many latest research presentations on TCM's clinical results on Coronavirus. This conference has three main goals:
First, enhance the dimensions of human medicine and public health;
Second, expand the advancement of human medicine and public health to 269 countries and regions;
Third, promote high-dimensional medicine and public health theories and practices globally. The Conference has the following unique features and calls for the following actions:
(1) Promote human medicine and public health globally in 269 countries and regions.
(2) Establish World Integrated Medicine (WIM) branches in various countries and regions around the world. Dr. Wang Shoubin has just been approved by the WIM headquarter to establish Shenyang, China branch. Currently, there are a total of 26 new branches that have been in different countries and regions, including Romania Branch chaired by RiTa, Austria Branch, chaired by Li Wengang. Liu Yangning serves as the ASEAN Branch General Secretary to support other national branches and representative offices.
(3) Establish various innovation professional committees; committees are already in motion including The Medical Special Committee, proposed by Dr. Li Yujin; and
the Intelligent Medical Etiology Special Committee by Li Cuncai.
(4) Establish a special committee to tackle top ten intractable diseases. The focus according to Dr. Zhang Li, Co-Chair representing Southeast Asia Branch is to shift from treatment to prevention.
(5) This conference promotes the transformation of integrated medicine from treatment-centered to prevention-centered, and establishes medicine for everyone, family health care, and universal health. Yolanda Zhang, Secretary General of the conference, said that the conference has invited a group of outstanding medical professionals including: Su Huachang, Li Lili, Gao Jing, Cui Xinzhi, Zhang Caifang, Hu Meiying, Hao Jishun, Tian Haihe, Chen Yemeng, Zhang Haisheng, Duan Jing, Li Shudong, Weng Qixiu, Huang Siruo, Dr. Effie Chow, Rose Hong, Jian Qi, Zhang Lili and many others serving as co-chairs.
(6) This conference will officially announce: The first Saturday of September each year is "World Integrated Medicine (Big Health) Day."
This conference also has received Gold sponsorships from Nantong Mishuifang Home Technology Co., Ltd. and Silver sponsorships from Zhongke Quantum Technology (Yiwu) Co., Ltd., Yifang Pharmaceutical, CAI Pharmaceutical Company and other businesses. Media sponsor is Global Dragon TV. The entire conference focuses on public health. Nearly 100 experts in various medical and general health fields from the world's top countries will publish various innovative research theories and clinical technologies in English on December 17th, 18th and 19th, 2021. The conference is open to the public free of charge. Other special features also include a complimentary class taught by New Guo Lin Anti-cancer Qigong group from Beijing; and top TCM practitioners will showcase different types and techniques of acupuncture; masters from different traditional lineages of Taijiquan will discuss how to practice and use Taiji and how to practice internal healing power and techniques. Various new media channels will be used to broadcast the conference live on December 17-19, 2021, which include
Qihuang.com http://www.qihuanghealthcare.cn and YouTube and Xiao Etong. EVERYONE is welcome to join this great event! For more information, please inquire at 626-215-3353 or WeChat @ Jackfu626.
To register to attend the conference, please go to the following websites: https://wfih.org/, or https://www.aimaim.org/
To watch the conference live during Dec. 17-19, 2021, please tune in to the following: http://www.qihuanghealthcare.cn,or https://youtu.be/yMYDsGusDP8.
Media Contact
Company Name: Global Dragon TV
Contact Person: Media Department
Email: Send Email
Phone: 1-703-901-6588
Address:10329 Democracy Lane
City: Fairfax
State: VA
Country: United States
Website: http://www.globaldragontv.com