ATOMSTACK A9 50W Laser Engraver Launched on Kickstarter
Safe and easy-to-use professional-grade DIY laser engraver for ceramics, aluminium and other metals offers simplified and user experience
ATOMSTACK A9 50W Laser Engraver, an affordable professional-grade desktop-friendly and portable laser engraver, has been launched today on Kickstarter, at "https://www.kickstarter.com/projects/1378183348/atomstack-p9-the-most-powerful-laser-cutter-and-engraver-10w?ref=f2alz9". The device offers a highly precise engraving and powerful cutting experience.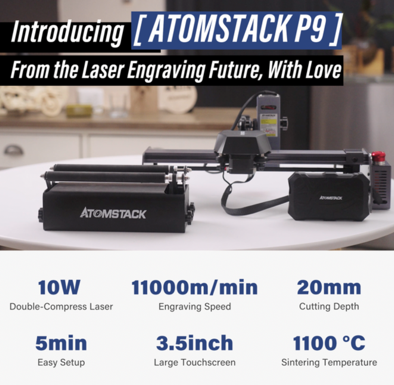 Featuring a double compressed laser with an output of 10w, the engraving machine marks any surface it works with 5 times faster than conventional engravers, and it also features a cutting speed that's twice as fast as ordinary cutters. With an engraving spot of 0.08 square millimeters, extreme precision is offered to users in a variety of materials that other engravers don't support. "ATOMSTACK works on metal, ceramics, and aluminum oxide, among other materials, and its high-power density focusing optics allows users to cut 15㎜ black acrylic board and even 20㎜ plywood easily," said Luffy of the ATOMSTACK campaign.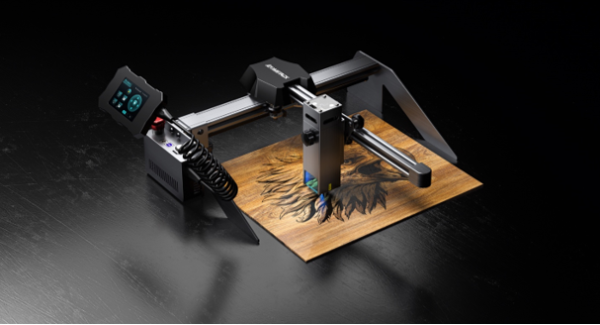 Today's launched laser engraver is also designed for a safer and easier user experience. The engraver works with a fixed-focus laser that requires no time-consuming constant adjustments that put a strain on the user's eye-focusing efforts. It also features a laser protective enclosure that keeps the user's eyes from being exposed to laser-related risks. The device also has a smart security system that will automatically stop the laser to prevent fire if it detects an abnormal state of continuous static irradiation, and which will also have the laser automatically stopped if an external impact provokes a deviation and change in position, preventing accidents from occurring.
ATOMSTACK A9 10W Laser Engraver is equipped with a simplified user-friendly 3.5 inch LCD controller that requires no advanced skills to be operated. Literally anyone can easily use it, from hobbyists to professionals.
The device does not require an internet connection to work on your engraving and cutting projects. Users can work on projects offline from an SD card, which is especially useful considering this is a lightweight and easy-to-carry device that people can use anywhere. The versatility of ATOMSTACK also allows the user to connect the device through Wi-Fi or a cable, and have projects executed from a computer or an app.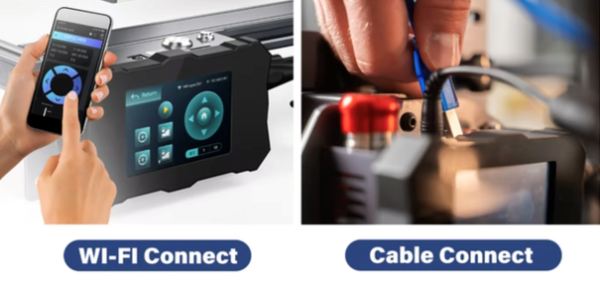 The ATOMSTACK A9 50W Laser Engraver campaign on Kickstarter at "https://www.kickstarter.com/projects/1378183348/atomstack-p9-the-most-powerful-laser-cutter-and-engraver-10w?ref=f2alz9" is seeking to raise $5,000 to fund the large-scale production of the laser engraver. Backers who support the campaign gain early and discounted access to the device.
About Us
Shenzhen AtomStack Technologies Co., Ltd, also doing business as Atomic Intelligent Manufacturing, works from China's Shenzhen on innovative 3D printing consumables and devices, all geared towards empowering makers and creators. We believe that products have a price, but creation is priceless. The company is a reputed manufacturer in the industry, having obtained CE, FCC, ROHS and other international quality and environmental protection certifications, and having secured important patents on 3D printer technology.
For more information, please visit "https://www.kickstarter.com/projects/1378183348/atomstack-p9-the-most-powerful-laser-cutter-and-engraver-10w?ref=f2alz9"
Media Contact
Company Name: Shenzhen AtomStack Technologies Co., Ltd
Email: Send Email
Country: China
Website: https://www.kickstarter.com/projects/1378183348/atomstack-p9-the-most-powerful-laser-cutter-and-engraver-10w?ref=f2alz9