Positivity Pays honors Boyd Anderson Highschool Principal, James F. Griffin II on his birthday with his very own trading card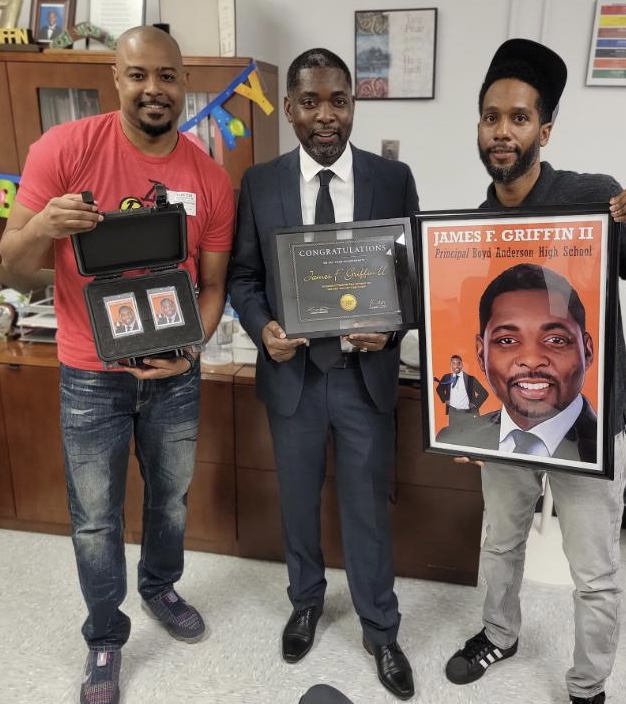 Positivity Pays, a South Florida-based multifaceted publishing company has honored Boyd Anderson Highschool Principal, James F. Griffin II on his birthday with his very own trading card.
James Griffin is a seasoned educator who is well-versed in harnessing children's limitless potential – as long as they are given the proper resources and support to achieve greatness. During his tenure as an educator, he has transformed classrooms into international hubs where students connect with the world using the latest technology. Griffin also strives to prepare youth for life beyond school through vigorous academic programs.
He has been awarded Principal of the Year accolades from Broward County and the state of Florida, as well as grant money to continue implementing virtual classrooms in area schools. Griffin's pursuit of providing children with the keys to success is shaping a brighter future for South Florida and beyond.
James F. Griffin's excellence had also attracted the attention of JM Family Enterprises, Inc., Southeast Toyota Distributors and JM Lexus, who recognized him at the 22nd annual African-American Achievers awards ceremony on Wednesday, April 9, 2014.
The mission of the Positivity Pays Foundations is to create material that provides its heroes their flowers while they can still smell them. "It is extremely important to this organization to help control the narrative of our community by uplifting, empowering, and acknowledging all the good we do with and for each other," said team leader, Ramon "Absoloot" Robinson.
The Positivity Pays team is led by musician, motivational speaker and social media maven Ramon "Absoloot" Robinson and his partner, creative entrepreneur and consultant Brandon Freeny. The nonprofit foundation creates content that highlights the unsung African American heroes in our community and beyond who are quietly and significantly affecting change and providing strong role models for young people. This includes graphic novels and children's books with uplifting messages and relatable, motivational heroes of color.
Media Contact
Company Name: Positivity Pays
Contact Person: Ramon Robinson
Email: Send Email
Phone: 954-501-1630
Country: United States
Website: https://positivitypays.com