Sidus Heroes Native Currency: Sidus and Senate Tokens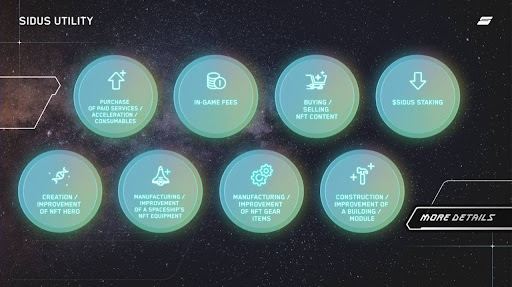 Sidus Heroes is a Massive Multiplayer Online Role-Playing Game (MMORPG) incorporating NFT and Play-to-Earn (P2E) elements.
Set in a space metaverse in the distant future when scientific breakthroughs have led to humans merging with technology, the game's characters belong to different blockchain races and are characterized by each chain's strongest attributes.
Apart from common GameFi staples like battle modes, Sidus Heroes stands out thanks to its intricate political and economic system, with each "blockchain race" having its distinctive features and armies.
Sidus Heroes relies on the SIDUS (gaming) token and the SENATE (governance) token.
$SIDUS will mainly be used as in-game currency for purchasing:
Resources
Tools
Consumables
Heroes and the gear for them
Pets
Loot boxes
Learn more about the Sidus Heroes native tokens: $SIDUS and $SENATE Initial Staking Event — Start earning extra profit on yourtokens the game's initial focal point will be the arena, where teams of three players will be battling each other, earning $SIDUS and winning rewards in the process that level up their character. Players will be able to purchase components and game attire using $SIDUS to enhance their heroes' chances to win. Each hero possesses unique characteristics, statistics, and roles they can perform in the team.
Every race has its distinctive features as well as an army and a political system, players will be able to form legions with heroes from different backgrounds rising and training together.
The gaming process has been designed to be an enjoyable adventure with a wide variety of unique P2E gameplay scenarios.
The initial launch version, which is to be released on Jan. 10, 2022, will see a beta version that will be available as a browser game for holders of the Heroes NFTs from the Genesis collection.
An updated version will follow in the first half of 2022, which will also see the launch of the first mobile version.
Visit the Sidus Heroes official website to start earning passive income by staking your tokens.
Media Contact
Company Name: Micky Pty Ltd
Contact Person: Jaja Agpalo
Email: Send Email
Country: Australia
Website: www.micky.com.au/sidus-heroes-sidus-native-currency/