Create awareness on body positivity and meet influential people with this Metaverse entertainment brand – BopoVerse #FreeToBe
Join Bopoverse to get a chance to be a part of an exclusive club and meet influential people on the metaverse. Bopoverse to combat cyberbullying and empower people to feel worthy with their exclusive NFT collection.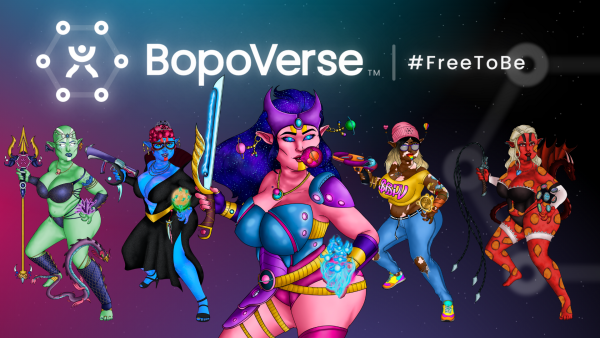 Bopoverse, a new METAVERSE brand, is creating a change through an exclusive NFT collection that represents a status symbol for body positivity and personal empowerment. The innovative metaverse community actively promotes empowerment and body positivity for all through digital art and technology built on the Ethereum Blockchain.
One common form of cyberbullying is body shaming or making critical comments about the shape or size of someone else's body. This type of cyberbullying can take place on all forms of social media. While it is normal and common for individuals to experience some form of self-doubt or shame once in a while, body shaming can make these feelings constant and overwhelming. According to the Girls' Attitudes Survey conducted in 2016, 47 percent of girls aged 11-21 disclosed that how they look holds them back and limits what they can do. Unfortunately for most, body shaming has become part of their daily routine and day-to-day experience. Ninety-four percent of teenage girls have reported being body shamed, and 57 percent of 12-20-year old's think that the cause of their bullying was due to their appearance.
This is why Bopoverse, a revolutionary web3 entertainment brand and community centered around social impact and various great utilities, is raising global awareness of negative body image, mental health problems and eating disorders through the Metaverse and the Web3.
To the uninitiated, Web3 and the Metaverse have been touted as the successor to the internet. While the Metaverse is still in its infancy in many ways, it has suddenly become a major business, with companies like Meta (formerly Facebook), Microsoft, Epic Games, Roblox, and others establishing their own virtual worlds or metaverses. It's a thriving ecosystem that Bopoverse is utilizing to spread its noble awareness on body positivity.
"Our mission is to empower humanity and help them know they are worthy. We recognize that hundreds of millions of people are affected by negative social media content, cyberbullying and shaming because of the wrong perception of what is normal," said Idan Danilov, the co-founder and CEO of Bopoverse. "We believe that perception can be changed, and we are the first to start the change, protect humanity and change the discourse in the digital world in an open, loving and positive direction," he said.
Holding a Bopoverse NFT art is a status symbol. It signifies and dignifies the holder as an ambassador of body positivity, self-love, and empowerment. The NFT holders also influence the world and do good. Additionally, BopoVers contributes to the community. The holders also get a chance to join an exclusive club and meet influential, interesting people they would not have met anywhere else without the NFT.
In another selfless move by Bopoverse, the platform recently revealed they are donating 5% of its mint revenues to charities that the community will vote for. "Our annual royalties income will be donated to charities. By holding our NFT, you are changing people's lives and making a huge impact by donating money every year, making the world a better place", said Idan.
NFTs are undoubtedly having a moment. They are the new form of art investment with creators of NFT art, including artists, gamers and brands across the spectrum of culture. NFTs are making people rich, especially collectors who can mint the art pieces at excellent prices and Bopoverse, with its rare work of art that has only 7,777 in the world, is poised to follow this trend.
To put into proper perspective the rise of NFTs, an investment of $45 in CryptoPunks NFT in 2017 would have resulted in a whopping $2,009,680 ROI in 2022. For this Bopoverse project, one thing is certain, with the understanding and insight of the team and what they stand for, the Bopoverse NFTs will undoubtedly be a smart investment choice for every NFT collector and crypto enthusiast out there.
To be a part of this awesome campaign, join Bopoverse's PREMINT (a platform used by the top NFT artists in the world to build access lists) at https://www.premint.xyz/bopoverse-official/ and make a difference in the lives of millions affected by eating disorders and negative body image.
NB: This is not investment advice.
Media Contact
Company Name: BopoVerse | #FreeToBe
Contact Person: Idan_D
Email: Send Email
Country: Israel
Website: https://www.premint.xyz/bopoverse-official/