Custom Car LED Lights Show Off Style And Also Improve Driving Safety
As LED lights are becoming more and more popular in cars, more and more people are looking for ways to keep their vehicles good looking to show their personality. The leading custom car accessories manufacturer, AoonuAuto is committed to provide high-quality cool customizable accessories for cars with a rich variety of car interior accessories, vehicle floor mats, car door lights projectors and so on to meet the demands of drivers & car enthusiasts in the field of car decoration.
Traditionally it was thought that spending money on accessories can be sheer wastage because they are not assets, rather very expensive flashy and showy stuff. But this is not true. In fact, the modern-day car accessories are not just fancy, but safety enhancing equipment. Smart dashboard lights, daytime running lights and mud flaps are a few examples of these types of safe accessories.
Rather than being flashy and expensive, trending car accessories are practical too. The interior car light kit provides comfort inside the car and makes it safer to drive at night especially with their clear headlights while interior accessories such as illuminated floor mats and led car ambient lights can make drivers and passengers feel comfortable as they provide delicate ambient lighting at night or in the dark.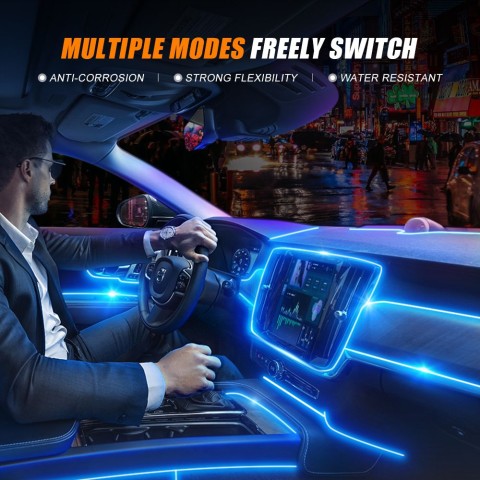 It's very frustrating if the coffee or drinks cups fall down and spill coffee or drinks everywhere in the car when drivers try to grab them while driving, especially at night. In order to help drivers pick up cups easily and keep eyes on the road, AoonuAuto designs LED car cup holder with built-in vibration sensor that can detect movements to light up the cup holders automatically. So drivers can see where the coffee or drink cups are located and grab them conveniently. Moreover, the illuminated car cup coasters are made of premium PMMA acrylic, which is wear-resistant, scratch-resistant and high-temperature resistant. The great features of IP67 rating waterproof and dustproof save drivers' worries about damaging the cup coasters by spilled liquids.
One more exciting feature of their cup holders is that they support custom requests, such as being able to get any car logo illuminated onto the LED cup coaster. By this way, customers can choose what they want and make the product unique to their own favorite car logos with only under 40$ in total.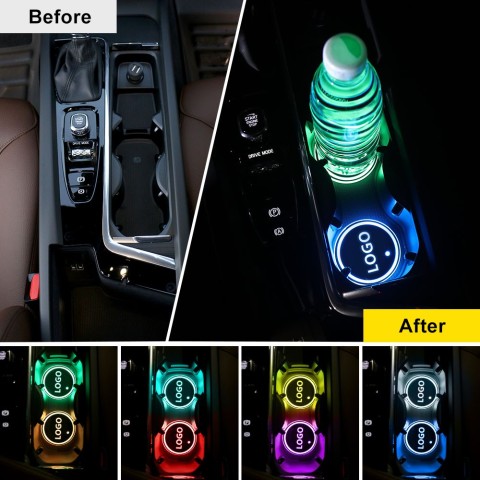 It's so pleasing for drivers and car enthusiasts to find a one-stop online custom car accessories store. From LED door sill, door handle bowl lights to interior car lights, LED floor mats, LED cup holder coasters, led car lights, LED aromatherapy boxes etc, AoonuAuto presents customers with a rich variety of choices, as well as the option to customize each item to suit their unique needs.
Compared with the traditional car door sill plates, illuminated scuff plates not only protect car door sills from scratches, but also help drivers and passengers to see when stepping in and out of the car at night. Making the scuff plate illuminated helps boarding or de-boarding the car easier, when in dark areas. – The Illumination lights up the moment the car door is opened- adding to the 'wow' factor. Thanks to the premium PMMA acrylic materials and LED tubes used in LED car door sill protector, the high-quality illuminated door sills can last long life and protect the original door sill plate. With different car logos, patterns or words available, the illuminated scuff plates allow drivers to express their individual style.
The glow car LED lights and accessories turn the car into a quasi-personal club, all the while adding that cool factor and driving safety that comes with innovative auto parts such as illuminated food mats, DRLs, car phone holders, tailgate lights etc. Drivers and passengers can enjoy cozy and stylish car life with their own customized car lighting decoration in the car.
Media Contact
Company Name: AoonuAuto
Contact Person: Jason Huang
Email: Send Email
Country: China
Website: www.aoonuauto.com