Entertainer J Young MDK part of all-star cast of "Hip Hop Family Christmas Wedding"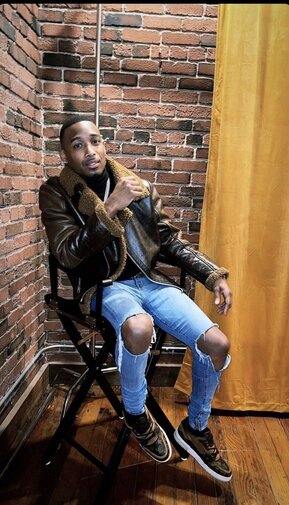 J Young MDK said "it was a great experience, especially being around so many other talented performers".
Rapper, Singer, songwriter and actor Jermaine Carter, also known as J Young MDK, is part of the cast that's bringing hip hop's most famous and most fun make-believe family back together for two very special occasions: the holidays and a wedding.
VH-1 will premiere "Hip Hop Family Christmas Wedding" on Wednesday Nov. 30. It will be shown throughout the holidays on the music network.
The original story catches up with many of the familiar characters seen in 2021's "Hip Hop Family Christmas," but now Jessica, played by Keri Hilson, and Jayson, played by Ne-Yo, are planning to tie the knot right in the middle of all the family Christmastime festivities.
This, of course, adds all sorts of drama, and plenty of general craziness as well-meaning family members try to get involved in wedding planning with sometimes conflicting and confusing demands and decisions. Other friends and family have their own distractions, such as careers and possible romances.
J Young MDK joins in a cameo role as Lil Icey, a music producer. He's alongside veteran actors Shad "Bow Wow" Moss, Terrence J and Serayah.
The cast also includes an impressive line-up of experienced actors and musicians, including MC Lyte and Valarie Pettiford as the moms competing for the title of best wedding planner; plus Keri Hilson, Jermaine Dupri, Redman, and Cassie to name a few..
"Hip Hop Family Christmas Wedding" is produced by Jamie Foxx and Datari Turner. It's part of VH-1's "Naughty or Nice" line-up of holiday movies.
This is his second holiday-focused movie.
In 2020, he was part of "The App that Stole Christmas," a fun Netflix feature that showed how the world's holiday spirit was temporarily threatened by technology gone wrong.
Although he's known for his music, he's been acting in all sorts of roles for the past five years, including the Tupac Shakur biopic "All Eyez on Me," and "Feds Did a Sweep" on AppleTV.
This spring, he had the lead role in "Mixed Girl," a well-received short film directed by Des Gray. His performance also earned a nomination for Outstanding Actor in a Short Film at the Micheaux Film Festival.
He also was part of the excitement surrounding "Day Shift," a Netflix comedy/horror/action movie that came out this summer about vampire hunting in Los Angeles.
J Young MDK performed "Bud (Mowing Down Vamps)" on the "Day Shift" soundtrack as part of the BSB Boys, a group founded by Jamie Foxx. The song was later remixed and featured Snoop Dogg.
He also recently released two songs and videos, "Grandma's House" and "Misconceptions," which will be part of an upcoming album.
To learn more about "Hip Hop Family Christmas Wedding," including a trailer and a schedule of upcoming showtimes, visit https://www.vh1.com/video-clips/axo6q3/the-nixons-tie-the-knot-in-hip-hop-family-christmas-wedding.
To keep up with J Young MDK, follow him on social media @jyoungmdk
Media Contact
Company Name: UPSCALE PR
Contact Person: Lesley Logan
Email: Send Email
Country: United States
Website: https://upscalepr.com/