Solar-Powered Electric Retractable Car Umbrella
The easiest and most effective way in the world to control your car's temperature and protect it from the sun and heat exposure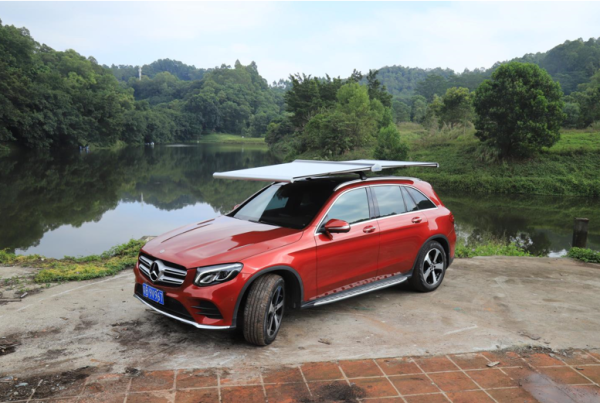 If you protect yourself from extreme exposure to the sun, shouldn't your car be protected as well? We're proudly introducing you to Solar-Powered Electric Retractable Car Umbrella: the world's first super effective retractable sunscreen that acts as a top barrier protecting your car's interior from the extremely strong sun rays that summertime brings along.
If you think about it, the inner space of your car is a special ecosystem where you always want to feel comfortable and, in a way, at home. That's why during summertime you turn on your car AC system to freshen the environment while you drive and to stay fresh and comfortable no matter how hot it is out there.
However, when you get into the car on a hot summer day, not even the AC makes a big immediate difference. Under the sun, your car can reach 80 ℃, exposing you to a true heat wave from inside when you open the door. Even touching the wheel or the dashboard is uncomfortable because they are too hot.
That's why Solar-Powered Electric Retractable Car Umbrella is such a game-changer—because it easily and conveniently keeps your car protected from extreme heat… even if it's parked under the sun on any melting hot summer day!
Let's face it: even though your whole car overheats when it's under the sun, most of the heat inside is produced through the front and rear windshields. Sometimes, when you get into your car after it has been parked outside on a sunny day, it feels like an extreme greenhouse that is so hot, it almost feels asphyxiating.
By blocking sun rays from touching both windshields, Solar-Powered Electric Retractable Car Umbrella uniquely prevents the effect that is mostly responsible for your car's overheating on summer journeys.
We have used a special nano sunscreen coating that helps to effectively reduce the temperature inside the car while also meaning that your Solar-Powered Electric Retractable Car Umbrella will last for a long time.
We have also made sure to make this a very robust structure. This is a level 7 wind-resistant sunscreen with aluminum alloy brackets that have been tested to keep its integrity when you're driving your car.
You can use a car charger to charge your Solar-Powered Electric Retractable Car Umbrella, but it's also possible to use solar energy to make it green and solar-powered. Hey, it's designed to stay under the sun all day, right? So why not make the most of that amazing source of clean energy?
Its built-in rechargeable battery features extended autonomy—you can use this device 40 times per charging cycle. In fact, if you're outside in the sun a lot, you won't even need to recharge it for a whole year, the solar photovoltaic panels will do the job
Solar-Powered Electric Retractable Car Umbrella campaign on Kickstarter at <bit.ly/3wqni7G> is seeking to fund the large-scale production. Backers who support the campaign gain early and discounted access to the campaign.
About Our Company
Founded in Hong Kong in 2020, Inchifun focuses on designing and creating innovative products that make people's lives easier and better through increased comfort and convenience. Our team of pioneer designers and industry leaders is constantly working to match design and craftsmanship with innovative concepts in the fields of lifestyle, health, outdoor sports, and other daily essentials.
Media Contact
Company Name: Inchifun
Contact Person: Mr Zhou
Email: Send Email
Phone: 18926045846
Country: China
Website: www.inchifun.com