Jacuzzi Fuzz Returns to the Music Scene with New Single "All it Took"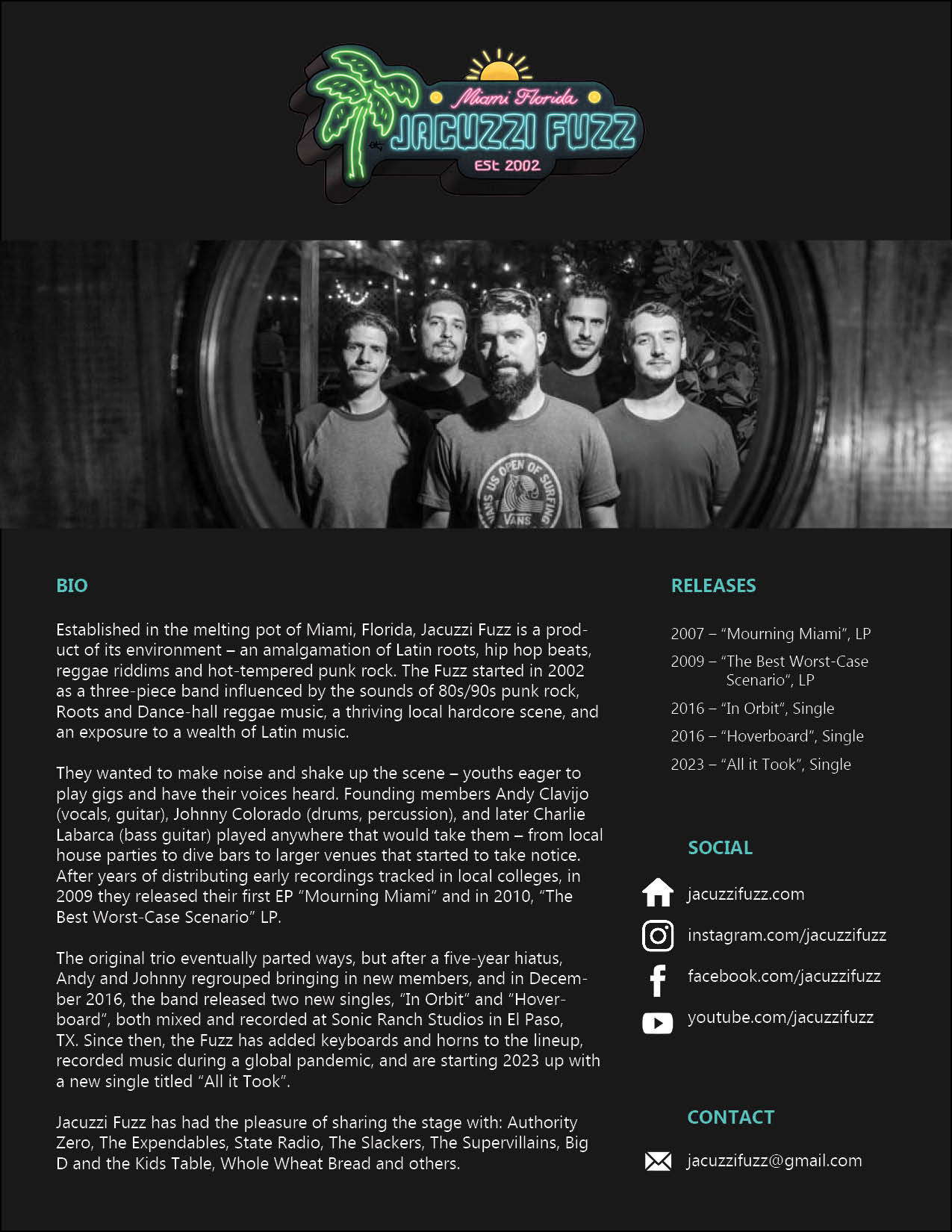 Miami-based Reggae/Rock/Ska Band Drops New Track after Seven-Year Hiatus
Miami-based reggae/rock/ska band Jacuzzi Fuzz has dropped their newest single "All it Took" on January 20th, 2023. The band, who played their first show in 2002, has been in the studio recording new music during the pandemic, and this single marks their return to the music scene after a seven-year hiatus.
"We've been working hard in the studio during the pandemic, and we're excited to finally release new music for our fans," says lead vocalist Andy Clavijo of Jacuzzi Fuzz "All it Took" is a song about sticking to your guns and not wavering from your vision, despite obstacles, doubt, or naysayers.
Since their last release in 2016, Jacuzzi Fuzz has rounded out their live lineup with keyboards and horns, adding a new level of depth to their sound. The single was recorded by Ferny Coipel at The Shack North in Hialeah, FL and mixed/mastered by Danny Kalb. The artwork for the single was created by Justin Oltesvig.
Jacuzzi Fuzz's return to the music scene with their new single "All it Took" is a testament to their dedication to their craft and their fans. The band's unique blend of reggae, rock, and ska, combined with their powerful lyrics, is sure to make an impact on the music scene. Fans can check out the new single on Jacuzzi Fuzz's website, jacuzzifuzz.com.
Stay up-to-date on Jacuzzi Fuzz's new music by following them on social media; Facebook, Instagram, Youtube and visiting their website. Be sure to check out their latest single "All it Took", and keep an eye out for upcoming releases and tour dates. Connect with the band and other fans to stay in the loop on all things Jacuzzi Fuzz.
About Jacuzzi Fuzz
Jacuzzi Fuzz is a band established in Miami, Florida in 2002. Their music is a melting pot of styles, influenced by Latin roots, hip hop beats, reggae rhythms, and punk rock. The band started as a three-piece, composed of Andy Clavijo (vocals, guitar), Johnny Colorado (drums, percussion), and later Charlie Labarca (bass guitar). They were determined to make noise and shake up the local music scene, playing anywhere that would have them, from house parties to dive bars to larger venues. In 2009, they released their first EP "Mourning Miami" and in 2010, "The Best Worst-Case Scenario" LP. The original trio eventually parted ways, but after a five-year hiatus, Andy and Johnny regrouped, bringing in new members and in December 2016, the band released two new singles "In Orbit" and "Hoverboard" mixed and recorded at Sonic Ranch Studios in El Paso, TX. Since then, Jacuzzi Fuzz has added keyboards and horns to their lineup and recorded music during the pandemic.
For more information please visit http://jacuzzifuzz.com/
Media Contact
Company Name: Jacuzzi Fuzz
Email: Send Email
Country: United States
Website: http://jacuzzifuzz.com/