Jacson Marçal Legendary Writer and Marketing Expert that has made Positive Contributions to the Knowledge about Autism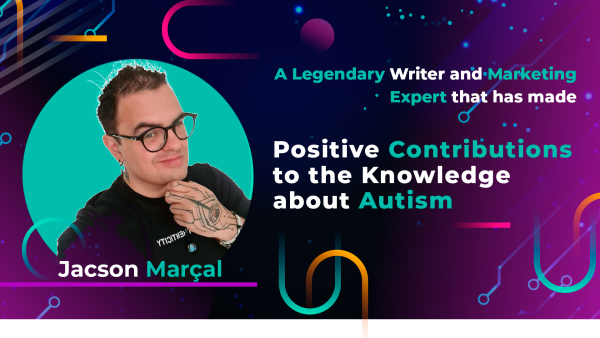 Jacson Marçal Pereira de Jesus is a force to be reckoned with. As a talented writer, autistic savant, and activist, he has made a significant impact in the lives of many. He is a man of many talents, with diverse interests in marketing, technology, mechanics and medicine. Jacson's passion for technology began at a young age, and it led him to graduate early in Information Technology from Objective and later proceed to graduate in Human Resources and Marketing from UNIP University in 2008.
Since then, Jacson Marçal Pereira de Jesus has been honing his skills, becoming one of the most respected voices in the field of autism. In 2020, he wrote his first book, "Autistic Mind – Mental Reset: From Childhood to Diagnosis," which explored the different aspects, stages, and particularities of autism based on his own life experiences. The book was a huge success and helped many people to better understand the autism spectrum.
The second book of the series, "Autistic Mind – Gathering Knowledge and Thoughts," was released in 2022 and delved into Jacson's experience with autism and the uniqueness, characteristics, and pain he experienced during and after the learning process. Jacson's approach to the book is to educate people about the reality of autism, and to help them understand the difficulties that autistics face on a daily basis.
In 2019, Jacson specialized in Neuroscience in order to learn different approaches to autism, neuroplasticity, and tools to help people with disabilities. He was also the first autistic person to speak alongside Temple Grandin at the first international congress on autism. He also wrote the first article that shows the effect of the Central Nervous System in people with autism and all associated conditions that can be presented in the course of their life.
Jacson contribution to understanding autism can be observed in the Adapted World, where he shared all of his experience and studies related to autism. He has participated in several events involving the autism spectrum and has created a direct channel of communication between autistics and the whole society. He is also known for volunteering with Microsoft and UNICEF Brazil, creating a direct channel of communication between entities and NGOs that seek to help children with some co-existing comorbidity or conditions.
In addition to his writing career, Jacson is a Web 3 enthusiast and a marketing expert. He has worked with several multinational corporations and companies, focusing on market research before finally founding his own marketing company, Extreme Marketing. The company focuses on helping small and big business enterprises get the recognition needed for the success of their business and positioning them globally in the market.
Jacson company, Extreme Marketing, offers market solutions such as Study, Structuring and Market Research; Aggressive and Strategic Marketing; Instagram Study; Google Knowledge Panel; Wikipedia, Wikibio, and IMDB; Blockchain 3.0, NFT Art, and 3D; Web Development and Social Media Verification, and all other businesses promotion strategies and modern technology. The company boasts expert teams that each have its specialization and a role to play towards ensuring that the client's needs are met, and it offers them a unique experience with methodologies applied by the largest marketing agencies in the world, aimed at getting the best results for their company, products, and services.
In conclusion, Jacson Marçal is an extraordinary individual who combines writing, activism, and business to make a positive impact in the world. He is a true inspiration to many and a shining example of how one person can make a difference.
Media Contact
Company Name: Jacsonfear
Contact Person: JACSON MARÇAL PEREIRA DE JESUS
Email: Send Email
Phone: 05562981511131
Country: Brazil
Website: https://www.instagram.com/jacsonfear/