New Book by Life Coach Patricia Campbell Provides a Roadmap for Women to Move from Mediocrity and Limitation to a Very Successful and Fulfilling Life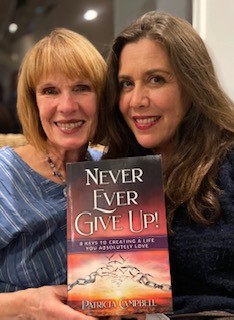 "Never Ever Give Up! 8 Keys To Creating A Life You Absolutely Love" by Patricia Campbell is a guide for women to break free from limitations, uncover their true calling, and bring their dream life to reality
Transformational Life Coach Patricia Campbell has released a new book that promises to be the answer for women looking for a push out of their current positions into a world of possibilities where they live an unstoppable, successful, and richly fulfilling life. It is a book that guides women who are ready to claim their power and step into greatness. The book draws on Patricia Campbell's experience and expertise to provide practical tools and techniques to help women overcome limitations, find their passion and create a life they love.
From a struggling single teenage mom to a self-made millionaire, Patricia's extraordinary story of transforming her own life is the inspiration behind her bold mission to teach other women it is possible to create lives they love. For over 20 years, her determination and resilience have inspired women to break free and build their dreams and she has decided to put all she's learned and observed over the years into this new book.
Speaking about the book, Patricia Campbell had this to say, "In these life-changing pages, you will learn to discover your true purpose, declare your dream life, and identify exactly what holds you back from creating the results you desire. The insights and keys for real change provide clear, practical ways to move toward your dream life with confidence, eliminate fear, doubt, and worry, and tap into the life you know you are meant to be living, guiding you to what is possible and achievable."
The book covers 8 key areas including finding purpose, setting achievable goals, developing a growth mindset, and building healthy relationships. With actionable steps and real-life examples, "Never Ever Give Up! 8 Keys To Creating A Life You Absolutely Love" is a must-read for women who are ready to take control of their lives and make their dreams a reality.
"Never Ever Give Up! 8 Keys To Creating A Life You Absolutely Love" is endorsed by the internationally renowned self-empowerment expert and motivational speaker Lisa Nichols of Motivating the Masses as well as Dr. Claire Zammit, founder of Feminine Power Programs. The international best-seller has received high acclaim from Mary Morrissey and Matt Boggs, co-founders of Brave Thinking Institute®, the premiere training centre for transformational life coaching. The book is available in print or Kindle on Amazon.
To get the book, please visit https://bit.ly/3l9Z3sd.
Media Contact
Company Name: Crystalize Coaching – Transformational Life and Business Coach for Women
Contact Person: Patricia Campbell
Email: Send Email
Phone: 250-878-2862
Country: Canada
Website: https://www.patriciacampbell.ca/