Ellen Alexander – A day in the Life of this Russian Supermodel
Have you ever wondered how a day looks like when you're a supermodel, entrepreneur, and singer? Some of us tend to believe that a supermodel's life is all simple tasks and glamour. Traveling the world with friends, some photoshoots for famous luxury brands, and making money while wearing your bathing suit. In reality, things are a bit different, especially now when the pandemics affected all in the entertainment world. Let's have a glimpse behind the curtains with Ellen Alexander, a Russian-born supermodel currently living in Los Angeles!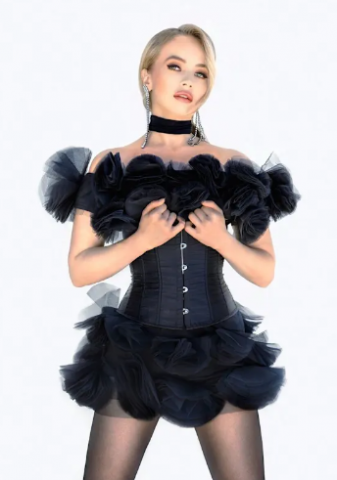 How does the day start? What time do you wake up in the morning?
Ellen Alexander: Before the pandemic started, I was heavily involved in the social scene of LA. There were lots of parties to attend, events. It was very rare to spend an evening at home, so I'd wake up quite late in the morning. This is normal when you go to bed after 4 am! But now, things are quite different. I spend most of the evenings in, so I usually tend to be in bed by 1 am, even earlier. My whole routine changed, and now I often wake up around 8 am, which almost never happened before!
And what are the first things you prioritize in the morning?
Ellen Alexander: Well, nowadays, the first things I do when I wake up are breakfast, exercise, and some work! It is tax season, so I'm head over heels in accounting, papers, and so on. But I never skip breakfast, usually a green juice that will give me enough energy to last a while. And, as I mentioned before, exercise. I don't go to the gym anymore, and I don't have a personal trainer, but I do make it a priority to exercise 1-2 hours every day, depending on my program.
What happens around noon in your life?
Ellen Alexander: Since there are few events to prepare for, most of my days are just working on my PR, my sites, social media, and my side projects that are not related to the modeling world. I'm also an entrepreneur, so I have to check out how my companies are doing and prepare the next steps. Lately, I've also been working a lot on my music, this is something that I care deeply about, so I tend to put some time into it. Also, I'm trying to go out a little around noon, usually is to get something to eat. I like to go to Koreatown and get a bone broth soup.
The evenings must be very different from what they were before March 2020; how do you spend them now?
Ellen Alexander: Yes, it's a huge difference! Before the pandemic, I had such a full social life. Every evening a new place, new people, new work contacts. Nowadays I spend most of the evenings at home, as I've mentioned before. I talk to friends and keep in touch with people through social media and other channels, but it is obviously not the same.
I have quite a lot of friends in the entertainment industry, mostly in fashion and movies. Before I'd go to see their new movies in the cinema, now I'm trying to catch up with their work from the comfort of my couch!
With this change of routines, I've learned to appreciate more the people I have in my life, the ones that make a difference, and I've started to take better care of my body and overall health. Something else that changed is that now I invest more time to do the back-office work that before was left aside for months. And all these changes have many benefits!
Media Contact
Company Name: EllenLifestyle
Contact Person: Ellen Alexander
Email: Send Email
Country: United States
Website: http://www.ellenlifestyle.com/