NEC Announces Availability of Univerge Blue Meet Webinar in the UK, The Netherlands and Italy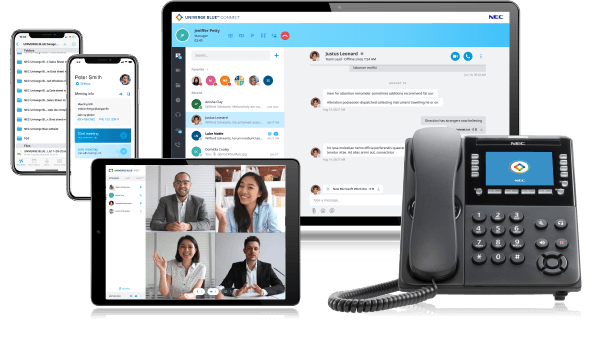 "We're excited to announce MEET WEBINAR, which adds rich webinar capabilities directly into the UNIVERGE BLUE CONNECT app. In today's hybrid work environment businesses are looking for better ways to reach and engage with customers, prospects, and business partners from wherever they may be," said Ronald Schapendonk, Global Marketing Director at NEC Enterprise Solutions."
New virtual event solution enables businesses to run engaging, stress-free webinars with integrations, analytics, and customization to connect at scale.
Hilversum, The Netherlands – NEC Enterprise Solutions, leading provider of advanced IT, communications, and networking solutions, today announced the general availability of UNIVERGE BLUE MEET WEBINAR, another important new addition to NEC's UNIVERGE BLUE open cloud platform, in the UK, the Netherlands and Italy.
UNIVERGE BLUE MEET WEBINAR is a virtual event service that provides organizations with a complete set of webinar tools and capabilities to help reach their audience virtually and grow their business.
"For attendees, we made it easy to join from the device of their choice. UNIVERGE BLUE MEET WEBINAR is a simple, easy-to-use solution that provides businesses with everything they need to drive smarter, faster, engaging, and actionable virtual event and meeting experiences."
With NEC's UNIVERGE BLUE MEET WEBINAR platform, organizations can reach, engage, and convert audiences virtually, while capturing valuable audience insights. Whether an organization is looking to tap into new audiences or engage existing audiences, UNIVERGE BLUE MEET WEBINAR provides everything businesses need to foster better collaboration, productivity and communication, and UNIVERGE BLUE MEET WEBINAR is fully brandable for their specific business.
NEC's turnkey webinar solution features a complete set of tools and capabilities, including:
Invite and Promote: Promote your webinars with custom invitations, registration pages, and email reminders – all included in one complete webinar solution.
Educate and Present: Host webinars using slides or screen-sharing with up to 12 HD video presenters and up to 1,000 attendees. Attendees can join via computer or phone, and the host can also record webinar content for on-demand distribution.
Increase Engagement: Launch quick polls, share results in real-time, and gauge audience reactions to your content with emojis.
Analyze and Convert: Generate detailed reports and follow up with emails and surveys to push attendees down the purchasing funnel.
Streamline Marketing Automation: Integrate with 1,000 + business apps via Zapier to track your leads, registrations, and more!
Learn more about UNIVERGE BLUE MEET WEBINAR by visiting the link here.
Media Contact
Company Name: NEC Enterprise Solutions
Contact Person: Jim Eagers
Email: Send Email
Phone: 0115 969 5700
Address:Innovation House, Mere Way Ruddington Fields Business Park
City: Ruddington
State: Nottingham, NG11 6JS
Country: United Kingdom
Website: www.nec-enterprise.com/