Decoding Jesus To Perform at the 2023 BEARADISE: International BEAR FESTIVAL
Talented DJ, Decoding Jesus, set to perform at the upcoming BEARADISE: International BEAR FESTIVAL organized by BEARMEX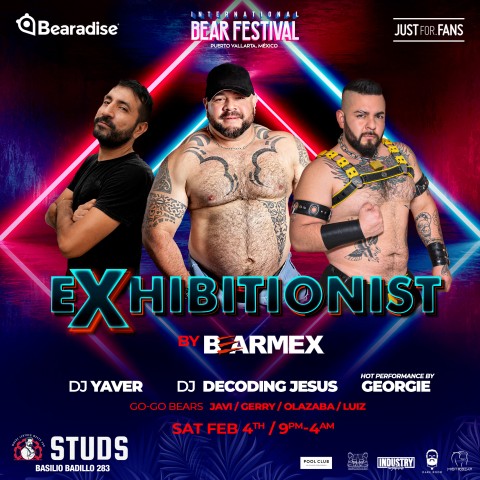 Multifaceted entertainer and DJ, Edgar Lopez Montiel, popularly known as Decoding Jesus, is set to deliver another amazing experience to BEARS at the upcoming BEARADISE: International BEAR FESTIVAL. The 5-day festival, which has become a highly anticipated yearly event for the gay culture, is scheduled from February 1st to the 5th, 2023 at STUDS BEAR BAR and will feature lots of fun and exciting activities for gay men who label themselves as BEARS.
Bearadise® has grown tremendously in popularity over the past years as the only local Mexican-owned and operated production company that specializes in organizing events designed by bears for bears and bear lovers. The fifth edition of its annual International BEAR FESTIVAL will be another mind-blowing experience and the company is engaging some of the best hands in the industry to create a memorable time for attendees. One such act is the sought-after DJ, Decoding Jesus, a renowned producer, performer, and all-round entertainer.
Decoding Jesus has undeniably mastered the craft of entertaining different types of audience, known throughout the gay and straight music scene. He will be playing on February 4 at BEARADISE STUDS BEAR BAR at Basilio Badillo 283, Puerto Vallarta, Mexico, a popular spot for Bears, Gear, fetish, Heat, Leather, and underground techno-tech house music.
The works of Decoding Jesus have received accolades from different stakeholders in the music industry, with major electronic labels, including the likes of Cleopatra Records, Hypnotic Records and let's beat milo records. His popularity in the music industry skyrocketed following the release of two CDs of Trance-mix music as DJs: This is Rave 5, and This is Trance 3.0, reiterating his mastery of electronic music production and DJ playing skills.
Decoding Jesus has expressed his readiness to deliver another captivating and mind-blowing musical experience to listeners at the 5th BEARADISE: International BEAR FESTIVAL. He also appreciated the efforts of Adrian Garfias from BEARMEX and the CEO of BEARADISE and Bear Pride Vallarta, Christian Serrano for making him a part of the landmark event.
To learn more about Decoding Jesus and his works, visit his pages across social media and digital music platforms, including Spotify and Instagram.
Media Contact
Company Name: Bearadise
Email: Send Email
Country: Mexico
Website: www.bearadisemx.com