Basic Through Advanced In-Person And Online Hypnosis Training Course To Take Place In April 2023
Cal Banyan to run professional hypnosis training certification course to enable beginner and existing hypnotherapists earn advanced certification in the 5-PATH® system of hypnosis and hypnotherapy.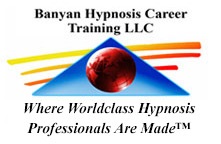 March 02, 2023 – Dallas, TX – Today, Cal Banyan and the Banyan Hypnosis Career Training school announced that accelerated professional hypnosis & hypnotherapy training through the 5-PATH® International Association of Hypnosis Professionals upcoming course registration ends March 23, 2023. This course is scheduled to run April 23 – 29, 2023 and available through a Texas State Licensed School. Taught by Cal Banyan, MA, Board Certified Hypnotist, "The Authority on Hypnosis That Works". This course will be available live in the classroom and live online.
Cal Banyan, the company's founder, and developer of the 5-PATH® hypnosis system said, "Most new hypnosis professionals fail because of their lack of practical training and education. That is why I developed the 5-PATH® system of hypnosis and hypnotherapy, which provides them a system that builds both confidence and competence as a Certified Hypnosis Professional who can build a successful hypnosis practice helping others when everything else has failed."
He continued, "This course provides the best answer to the questions, "How to become a hypnotherapist" and "How to become a certified hypnotist". Completion of this course certifies the graduate as either a Certified Hypnosis Professional or Certified Hypnotherapist."
According to Banyan, 5-PATH® certification is focused on both providing the best practical hypnosis training and education and providing the very best support after graduation which together are among the most important factors in the new graduate's success. 5-PATH® certification is not just better, it is unique in the profession, producing successful hypnosis professionals by providing an advanced leading-edge approach that uses the most powerful tools available, with new techniques being developed and added to the course.
Prospective hypnosis students and current hypnosis professionals who wish to learn more about Banyan's approach to helping them earn a good living from being a hypnotherapist are encouraged to watch his video: https://youtu.be/34Zb0HnbOyU
According to the company's website, Cal Banyan is a MA, BCH, M-CPHI Is A 5-PATH® IAHP Accredited Instructor and the company is the only legally operating hypnosis school in Texas. Additionally, The National Guild of Hypnotists says this about the company's Live-Over-the-Internet, "hands-on" hypnosis certification training, "This unique training meets NGH 'hands-on' requirements since the state-of-the-art technology actually places the student in class to participate in discussions, and also to demonstrate his or her ability to do what is learned in class, all through on-line interactive video. Furthermore, the company says that the National Guild of Hypnotists accepts the courses for certification and CEUs for existing hypnosis professionals."
The company provides answers to several questions prospective students have on various pages of the website including the "Frequently Asked Questions" page and a page titled "The Right School: https://www.banyanhypnosiscareertraining.com/hypnosis-school-hypnotherapy-training-selection.php
Parties interested in discovering more about the April 2023 hypnosis training course, or other classes and trainings held by Banyan on how to become a certified hypnotist, may contact the company through the website or by calling (469) 989-8092. Media interested in topics pertaining to hypnosis and hypnotherapy are welcome to reach Banyan and 5-PATH® instructors through the same means. School license number, course Information and course schedule are available on the website.
Google Map: https://goo.gl/maps/SKrq3tJ4QgEnUN2D9
Media Contact
Company Name: Banyan Hypnosis Career Training, LLC
Email: Send Email
Phone: 469-989-8092
Address:University Plaza, 275 West Campbell Road, Suite 245
City: North Dallas
State: Texas 75080
Country: United States
Website: https://www.BanyanHypnosisCareerTraining.com