Into the Sun's First Annual Oscar Viewing Event at the Mondrian Skybar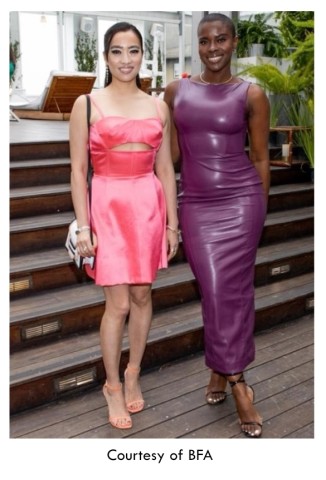 Yi Zhou and Into the Sun Entertainment's 95th Academy Awards viewing party and afterparty were a huge success with an open door and inclusive angle to the event.
An unforgettable evening of entertainment and celebration at the Mondrian hotel in Los Angeles, bringing together Hollywood's commitment to inclusivity and our continued partnership with the UN @unitednations Human Rights Commission.
The Skybar at the Mondrian Hotel in West Hollywood took the centerstage by co-hosting the event, while guests enjoyed beautiful sunset views over LA, delightful cocktails, and the Academy Awards. The afterparty featured a live DJ session by Darwell, entertainment attorney who is Hollywood Reportert's a regular feature as top entertainment attorney, kept everyone on their feet and enjoying their time. Yi Zhou, director and founder of Into the Sun Entertainment, was in attendance at the party, greeting guests and looking glamorous in a bright pink dress by Patou and matching pink heels by Stuart Weitzman, pink, black and white purse is from Pierre Hardy, and the sparkling jewelry is by David Yurman.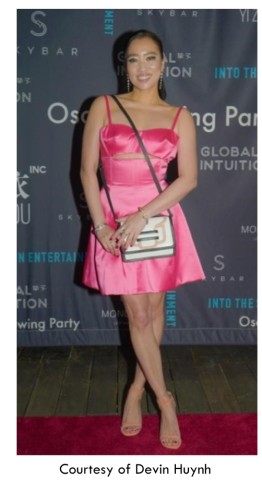 The Oscars this year have represented a diverse community extremely well. In particular, the Asian community from the movie Everything Everywhere All at Once. The movie received awards in 7 of the top categories, including best picture, director, original screenplay, supporting actress, supporting actor, editing, and lead actress, by Michelle Yeoh. For Michelle, after years and years of work in martial arts and other features, she is the first Asian woman to be recognized as best actress by the academy. Yesterday's win is a sign of the changing times since 2016, when an allwhite slate of Oscar nominees was seen. The growing inclusive nature of the Academy is a huge win, for all communities of color.
About Into the Sun Entertainment:
Into the Sun Entertainment is a movie and television production company founded in 2021 by artist and director Yi Zhou in Los Angeles. Zhou's Into the Sun films, headquartered in Rome, is a division of L.A. based parent company Into the Sun Entertainment.
Through her Into the Sun Entertainment banner, Yi Zhou puts her creative power and resources behind writing, directing and producing a selective slate of unique stories and IP material that play at the intersection of prestige and global commercial appeal. The company has the capacity to develop, package, and produce a broad array of films and TV series for worldwide distribution, and serves as a catalyst for highly elevated projects suited for collaborations with major studios, networks and streamers globally.
Adopting a material-first, platform agnostic philosophy, Into the Sun embraces the growing disruption in the entertainment ecosystem and aims to connect smart stories and direct engagement with audiences looking for elevated content. Creating content that challenges traditional norms, the company takes a trans-media approach to seeding and developing compelling and unique IPs to bring entertainment properties to audiences globally, producing a diverse array of projects.
Zhou's approach to creating strong material and bringing creative visions to life with IP creation and acquisition, packaging, funding, marketing and distribution in USA, Italy and China is the thread that defines the company. Zhou is a creator at heart and has projects she will develop and nurture carefully while remaining flexible in collaborating with various artists and distribution partners around the globe. The structure of the company reflects how the industry is working today: nimble, hyper-creative, collaborative and lean. The core of the company approach is to highlight Asian, female and equality, focusing on creative and corporate voices transcending gender, race and geographical connotations.
Media Contact
Company Name: Into the sun entertainment
Contact Person: Tiffany
Email: Send Email
Country: United States
Website: https://www.intothesunentertainment.com/