New book "Hope Not Nope" by Dr. Dillon Caswell, PT, DPT, SCS is released – an empowering tool to shift perspective and restore hope as the greatest healing agent in a failing healthcare system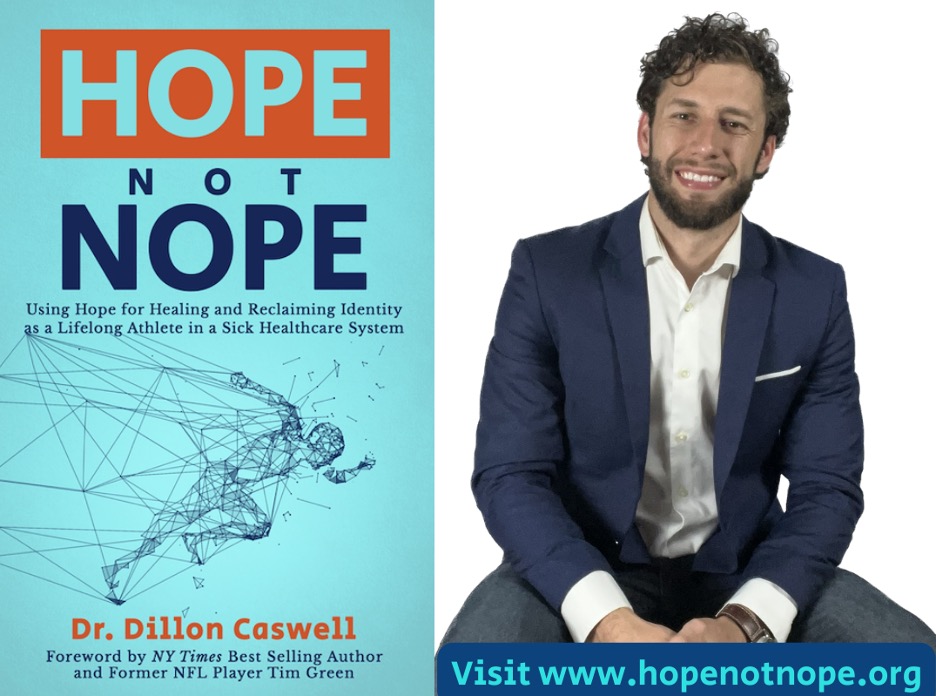 Hope Not Nope: Using Hope for Healing and Reclaiming Identity as a Lifelong Athlete in a Sick Healthcare System by Dr. Dillon Caswell has been released worldwide. This 153-page guide tackles major, longstanding issues in the healthcare system that have convinced people they are sick, broken, fragile, and incapable of participating in activities they love. It provides evidence-based commentary balanced with a message of hope, using modern neuroscience to show the power of positivity, perspective, and perseverance.
Dr. Caswell unpacks the troubling message of "nope" that permeates the healthcare experience of many athletes, where doctors and specialists provide poor information, dismiss concerns, or tell patients that they're too far gone to fully recover. This message of "nope" exists in other arenas as well – from coaches and "experts" to doubters and armchair critics that limit potential or cause self-doubt.
Dispelling the ideology of "nope" from a variety of angles, Dr. Caswell delves into psychology and physiology in language that is easy to understand and provides practices and key takeaways for each chapter. He combines modern science and motivational language to show athletes of all backgrounds – as well as anyone else burdened by doubt and physical limitations – that hope and perspective are powerful tools for healing and performance.
This multidisciplinary approach to wellness and maximizing potential looks at the ways the current healthcare system can be misleading, and recenters focus on mental fortitude, building strong foundations, and reframing challenges as opportunities. The book's practical advice and perspective-shifting ideas can transform people suffering from an abundance of "nope" into empowered, lifelong athletes.
Hope Not Nope (ISBN: 9781958729724) can be purchased through retailers worldwide, including Barnes and Noble, Amazon, Audible, and Spotify. The paperback retails for $12.99, Audiobook $13.08, and the eBook $2.99. Review copies and interviews are available upon request.
Learn more at https://hopenotnope.org/
From the back cover:
"Who wants to live a life of unhappiness and suffering? If you answered 'not me,' then Hope Not Nope is a book for you! If 'life' isn't working out for you, then you can keep doing the same things – or you can make a change for the better. Hope Not Nope challenges the dogma that humans are fragile and vulnerable, planting the seeds for robustness and resilience. We can't choose what happens to us – but we can choose how we respond to it!""This book perfectly taps into the enduring spirit of humanity. Dillon explains complex physiology simply, making the book accessible to people from all walks of life. You will find yourself nodding, laughing, and challenging your own dogma, often within a single chapter. Each chapter contains anecdotes, key takeaways, and reflection exercises to help you move towards a more positive existence. If you are stuck in a rut or have the desire to make each day better than the last, then you will thoroughly enjoy Hope Not Nope!" – Dr. Tim Gabbett, Ph.D. Top 25 Most Impactful Sports Scientists of All Time
"This book, brilliantly written, is a must-read for any athlete of any gender, of any age, and parents, coaches, and healthcare workers as well. It will be your blueprint, your guide, and your inspiration." – Tim Green, NY Times Best Selling Author, Former Atlanta Falcons Star Defensive End
About the author:
Dr. Dillon Caswell is a sought-out enthusiastic clinical Doctor of Physical Therapy with expertise and a Board Specialty Certification in Sports. He has spent more than 10 years in higher-level education both as a student and adjunct professor at SUNY Upstate Medical University. He desires to empower and educate the next generation by cutting through the biased lies surrounding the human experience by constantly seeking and delivering the truth in science and healing. This mission has fueled him to host one of the top alternative health podcasts in the world: The Prehab Podcast. Dr. Caswell embodies servant-based leadership, bringing people that have been shamed with "nope" to the truth of hope, in a practice he founded and owns: Action Potential Performance Physical Therapy (AP3T), PLLC.
About MindStir Media:
MindStir Media LLC is an award-winning book publisher. To learn more about publishing a book with MindStir Media, visit http://mindstirmedia.com or call 800-767-0531.
Media Contact
Company Name: MindStir Media LLC
Contact Person: Jen McNabney
Email: Send Email
Phone: 800-767-0531
Address:1 New Hampshire Ave Suite 125
City: Portsmouth
State: NH
Country: United States
Website: https://mindstirmedia.com/