FreeCast and Playing For Change Partner on New FAST Channel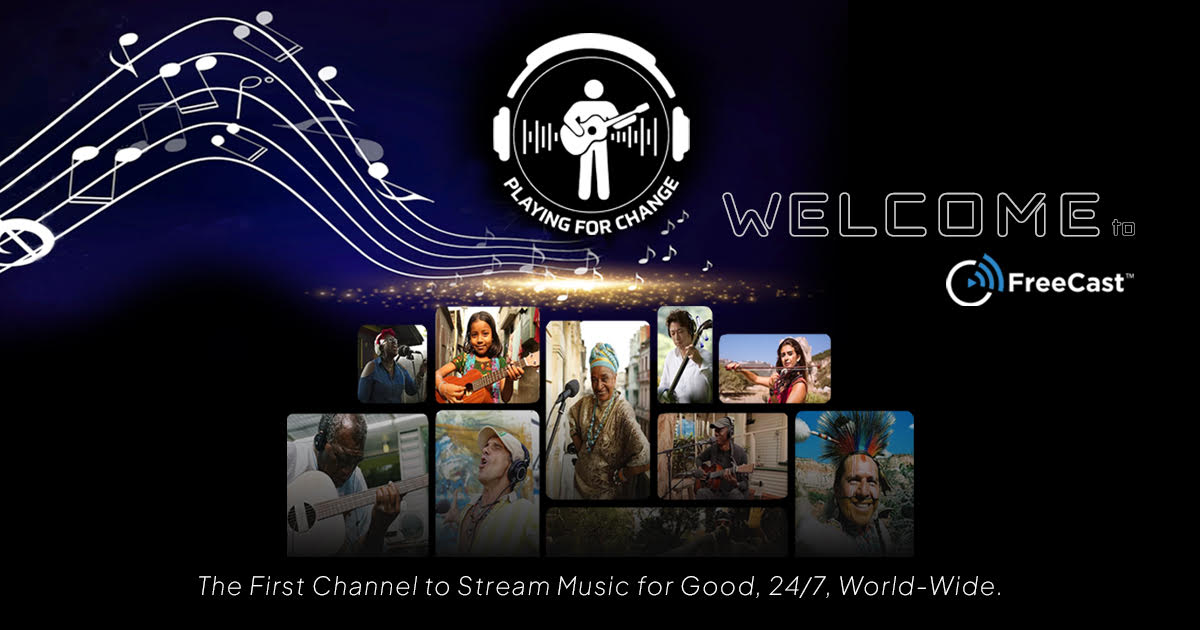 This new FAST channel will feature music videos, live concerts, documentaries, and more.
FreeCast is partnering with Playing For Change to launch a new free ad-supported television (FAST) channel. Together, the companies hope to further Playing For Change's mission of bringing the world together for the greater good though the power of music and the voices of legendary musicians. This original channel will be created with FreeCast FAST, the company's freshly-announced FAST channel creation service. Although FreeCast is the partner organization, the channel will be distributed across all streaming platforms, not exclusive to the FreeCast service.
Playing For Change was created to connect the world through the power of music. For over 20 years, they've been spreading peace through music, having produced over 400 videos with over 1,300 musicians in 65 countries, and reaching over 2 billion viewers through music videos and live performances. Playing For Change has had the honor of partnering with prominent organizations including the United Nations, The White House, and the Olympics, and has worked with a long list of legendary musicians including Ringo Starr (The Beatles), Bono (U2), Robbie Robertson (The Band), Keith Richards (The Rolling Stones), Jimmy Buffet, Carlos Santana, Brandi Carlile, Sara Bareilles, Peter Gabriel (Genesis), John Paul Jones (Led Zeppelin), Mickey Hart (Grateful Dead), and many other great music talents globally.
Playing For Change's efforts are tireless, born as a shared vision between co-founders Mark Johnson and Whitney Kroenke, who hit the streets of America with a mobile recording studio and cameras in search of inspiration and the heartbeat of the people. This musical journey resulted in the award-winning documentary, "A Cinematic Discovery of Street Music." Timeless is the music, resulting in classic songs recreated with ensembles of global artists into new masterpieces such as was the 50th anniversary of "The Weight" which includes Robbie Robertson himself on lead. (Watch Video Here)
FreeCast CEO William Mobley discussed the history of music, television, and social causes: "This is an exciting thing to be a part of. You had the rise of MTV that introduced music videos to the world. You had Live Aid, which leveraged the power of music and television at the time. And now it's with that same spirit that we're partnering with Playing For Change to launch the first channel to stream music for good, 24/7, world-wide."
Video Link: https://corp.freecast.com/pfc-video
Media Contact
Company Name: FreeCast Inc.
Contact Person: Kevin Speedy
Email: Send Email
Phone: (407) 374-1607
Address:6901 TPC Drive Suite 200
City: Orlando
State: Florida
Country: United States
Website: https://freecast.com